01.12.2018 | Research | Ausgabe 1/2018 Open Access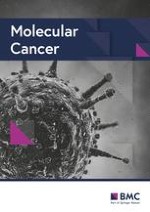 Long noncoding RNA HULC accelerates liver cancer by inhibiting PTEN via autophagy cooperation to miR15a
Zeitschrift:
Autoren:

Xiaoru Xin, Mengying Wu, Qiuyu Meng, Chen Wang, Yanan Lu, Yuxin Yang, Xiaonan Li, Qidi Zheng, Hu Pu, Xin Gui, Tianming Li, Jiao Li, Song Jia, Dongdong Lu
Wichtige Hinweise
Xiaoru Xin and Mengying Wu contributed equally to this work.
Abbreviations
CHIP
Chromatin immunoprecipitation
LC3
microtubule-associated protein 1 light chain
METTL3
N6-adenosine-methyltransferase 3
PTEN
Phosphatase and tensin homolog
Background
Long noncoding RNA HULC is associated with cancer progression [
1
,
2
]. Emerging evidences suggest that HULC plays a positive function during hepatocarcinogenesis. For examples, HULC deregulates lipid metabolism in liver cancer cells [
3
]. Moreover, HULC promotes hepatocarcinogenesis through effecting genes of circadian rhythm [
4
]. In particular, HULC enhances epithelial-mesenchymal transition(EMT) to promote metastasis of liver cancer cells [
5
]. Furthermore, HULC inhibited apoptosis mediated by miR9 [
6
]. In additional, CUDR overexpression enhanced the loading of pStat3 on the promoter region of HULC which increased HULC expression in the liver cancer [
7
]. Of significance, CREB enhanced the HULC expression via miR372 in tumor [
8
]. Interestingly, IGF2BP1 knockout triggers HULC expression dependent on posttranscriptional modification [
9
]. In particular, HBx affect the function of HULC [
10
]. Moreover, some studies also showed that HULC was be able to act as a potential cancer biomarker [
11
–
15
]. Moreover, HULC silencing suppressed angiogenesis, proliferation and invasion of glioma cells dependent on anoikis [
16
].
Autophagy plays an important role in cellular physiological processes and tumorigenesis [
17
–
19
]. Studies showed that miR-124-3p inhibitesbreast cancercell progression by decreased cellular autophagy [
20
] and autophagy is increased in the skeletal muscle of cachectic cancer patients [
21
]. Furthermore, autophagy-related SQSTM1/p62 is involved in cellular DNA damage response [
22
] and autophagy descreased the abnormal chromosome number [
23
]. Moreover, some reports showed autophagy was associated with cellular beta 1-integrin-c-Met signaling [
24
], NAD + −dependent histone deacetylase Sirt1 [
25
], miR212-SIRT1 pathway and cellular senescence [
26
], Choline dehydrogenase -SQSTM1/p62 [
27
].
Phosphatase and tensin homolog (PTEN) belongs to a suppressor in most cancer cells [
28
] and inhibit tumorigenesis and cellular self-renewal [
29
,
30
]. Studies showed PTEN was inactivated via HDAC6 inhibitor [
31
] and PTEN inhibited Notch signaling and PI3K-AKT-mTOR signaling axis in cancer cells [
32
–
36
] and PTEN inhibits BM1 activity [
37
]. However, PTEN enables the development of pre-B acute lymphoblastic leukemia [
38
].
In this study, our results suggested that lncRNA HULC was highly up-regulation in human hepatocellular carcinoma. Moreover, HULC accelerates malignant progression of liver cancer cells. Furthermore, HULC activates AKT-PI3K-mTOR pathway through PTEN reduction dependent on autophagy in human liver cancer cells. This study elucidates a novel tumorigenesis mechanism for HULC in liver cancer cells.
Methods
Patients and tissue samples
Thirty cases of liver cancer tissues used for analysis were obtained from liver cancer patients who had undergone surgery. The liver cancer tissues were fixed in formalin before embedded in paraffin. All patients were diagnosed as liver cancer according to histological examination.
Cell lines and plasmids
Human liver cancer line Hep3B was maintained in DMEM Medium supplemented with 10% heat-inactivated fetal bovine serum (Gibco) in a humidified atmosphere of 5% CO 2 incubator at 37 °C. Plasmid pGFP-V-RS, pCMV6-A-GFP, pCMV6-XL5-PTEN, pGFP-V-RS-PTEN, pGFP-V-RS-Sirt1, pMiR-Target were purchased from Origene (Rockville, MD 20850, USA). pEZX-MT01-PTEN-3'UTR was purchased from GeneCopeia (Rockville, MD, USA).pCMV6-AC-GFP-HULC [the HULC sequence (NR_004855) was synthesized and cloned into the cloning site ofpCMV6-AC-GFP plasmid (Origene)], pcDNA3-sirt1[the Sirt1 sequence in the Flag-SIRT1 (Plasmid #1791,Addigene) was digested and subcloned into the cloning site of pcDNA3], pcDNA3-sirt mutant [the mutant Sirt1 (H363Y) sequence in the Flag-SIRT1 H363Y (Plasmid #1792, addigene) was digested and sub-cloned into the pcDNA3] were constructed by our lab.
Antibody, primers, probes and mimics
Anti-PCNA (Santa Cruz, Biotech), anti-Ki67 (Santa Cruz, Biotech), anti-P62 (Santa Cruz, Biotech), Anti-PTEN (Santa Cruz, Biotech), anti-pPTEN (Santa Cruz, Biotech), Anti-METTL3 (Santa Cruz, Biotech), Anti-DGCR8 (Abcam), Anti-Droha (Abcam), Anti-exportin5 (Abcam), Anti- Dicer (Santa Cruz, Biotech), Anti-Ago2 (Abcam), Anti-Notch (Santa Cruz, Biotech), Anti-JUN (Abcam), Anti-mTOR (SantaCruz, Biotech), Anti-LC3 (Santa Cruz, Biotech), Anti-RNApolII (Santa Cruz, Biotech), Anti-sirt1 (Abcam), Anti-ATG3 (Abcam), Anti-PKM2 (Santa Cruz, Biotech), Anti-CDK2 (Santa Cruz, Biotech), Anti-AKT (Abcam), Anti-mTOR (Abcam), Anti-PI3K (Abcam), Anti-survivin (Santa Cruz, Biotech), Anti -H-Ras (Santa Cruz, Biotech), Anti-BrdU (Santa Cruz, Biotech), Anti-β-actin (Abcam), anti-m6A (Santa Cruz, Biotech), anti-HistoneH3 (Abcam), anti-AcAb (Danvers, MA, USA), anti-β-catenin (Santa Cruz, Biotech), anti-pAKT (Abcam), anti-pPI3K (Abcam), anti-pmTOR (Abcam). HULCP1:5'-AACCTCCAGAACTGTGAT-3′, HULCP2:5'-CATAATTCAGGGAGAAAG-3′; PTENP1:5'-CATGACAGCCATCATCAAAG-3′; PTENP2:5'-CTGGGAATAGTTACTCCCTT-3′; LC3P1:5'AGACCGGCCTTTCAAGCAGC-3′, LC3P2:5'-CTGGGAGGCGTAGACCATAT-3′; LC3CHIPP1:5'-GCCTCCTGGGAACCAGAGAG-3′, LC3CHIPP2;5'-GCACTCTACCTTGGCGACAC-3′; H-RasP1:5'-AAGAGTGCGCTGACCATCCA-3′, H-RasP2:5'-AGAGCACACACTTGCAGCTC-3′; H-RasCHIPP1:5'-TCGGCTCCGGTCTCCAGCCA-3′, H-RasCHIPP2:5'-GCGCGGCCTACCATTGGCTG-3′; Sirt1P1:5'-GATCCTCAAGCGATGTTTG-3′, Sirt1P2:5'-ATTATTACACTATGATTTGT-3′; Pre-miR15aP1:5'-CCTTGGAGTAAAGTAGCAGC-3′, Pre-miR15aP2:5'-CCTTGTATTTTTGAGGCAGC-3′; miR15aP1:5'-TAGCAGCACATAATGGTTTGTG-3′; PrimiR15aP1:5'-AAGATCAGATCCTTGTATTT-3′, PrimiR15aP2:5'-ATTTTTTATATTCTTTAGGC-3′; β-actinP1:5'-CTTCCTTCCTGGGCATGGAG-3′, β-actinP2:5'-TGGAGGGGCCGGACTGGTCA-3′; U6P1:5'-GCTTCGGCAGCACATATACT-3′, U6P2:5'-GGAACGCTTCACGAATTTGC-3′; miR15aprobe (Northern):5'-Biotin-CACAAACCATTATGTGCTGCTA-3′; miR15aprobe (EMSA):5'-Biotin-TAGCAGCACATAATGGTTTGTG
-
3′; HULCprobe5'-Biotin-ACTCATGATGGAA-3; U6probe (Northern):5'-Biotin-ACGCTTCACGAA-3′; mimic-miR15a:TAGCAGCACATAATGGTTTGTG.
RT-PCR
Total RNA was purified using Trizol (Invitrogen) according to manufacturer's instructions. cDNA was prepared by SuperScript First-Strand Synthesis System (Invitrogen). PCR analysis was performed under the special conditions. β-actin was used as an internal control.
MicroRNA detection
Total RNA was isolated from cells using Trizol (Invitrogen, Carlsbad, CA, USA) according to the manufacturer's protocol. Real-time RT-PCR-based detection of mature miR-15a and U6 snRNA was achieved with the miRNA Detection kit (including a universe primer, U6 primers, Qiagen) and miR15a specific upsteam primers (Origene, USA).
Western blotting
Proteins were separated on a 10% sodium dodecyl sulfate-polyacrylamide gel electrophoresis (SDS-PAGE) and transferred onto a nitrocellulose membrane. The blots were incubated with antibodyovernight at 4 °C. Following three washes, membranes were then incubated with secondary antibody overnight at 4 °C. Signals were visualized by ECL.
RNA immunoprecipitation (RIP)
Cell lysates were incubated with A/G-plus agarose beads (Santa Cruz, Biotechnology, Inc. CA) together with the antibody or normal mouse or rabbit IgG for 4 h at 4 °C. Beads were subsequently washed and RNAs werethen isolated. RT-PCR was performed according to the manufacturer's instructions.
Chromatin immunoprecipitation (CHIP) assay
Cells were cross-linked with 1% (
v
/v) formaldehyde (Sigma) for 10 min at room temperature and stopped with 125 mM glycine for 10 min. Crossed-linked cells were resuspended in lysis buffer and sonicated. Chromatin extracts were immunoprecipitated with antibodies on Protein-A/G-Sepharose beads. After washing, elution and de-cross-linking, the ChIP DNA was detected by PCR.
Cells proliferation assay
Cells growth in vitro were detected by CCK8 assay kit according to the manufacturer instruction. Cell growth curve was based on the corresponding the normalized values of OD450.
Colony-formation efficiency assay
Cells were plated on a six well plate and the six well plate was incubated at 37 °C in humidified incubator for 10 days. Cell colonies were stained with 0.5% Crystal Violet and the colonies were counted.
Tumorigenesis test in vivo
Four-weeks old male athymic Balb/C mice were purchased from Shi Laike Company (Shanghi, China) and maintained in the Tongji animal facilities approved by the China Association for Accreditation of Laboratory Animal Care. The athymic Balb/C mice were injected in the armpit area subcutaneously with cell suspension. The mice were observed four weeks, and then sacrificed to recover the tumors.
Statistical analysis
Each value was presented as mean ± standard error of the mean (SEM) unless otherwise noted, with a minimum of three replicates. The results were evaluated by Student's t-test, with
P
 < 0.05 considered significant.
Results
Discussion
To date, accumulating evidence indicates that HULC functions in cancercinogenesis. Herein, the involvement of HULC promotion of liver cancer cell growth is supported by results from two parallel sets of experiments: 1) HULC was over-expressed in human liver cancer tissue. 2) HULC accelerates malignant growth of liver cancer cells in vitro and in vivo. Our observations demonstrated that HULC is crucial for cell growth and viability in liver cancer cells. Therefore, HULC is a strong oncogenic long noncoding RNA.
Of significance, our results show that PTEN interacts with P62 and PTEN is degraded by autophagy mediated by HULC. Notably, inhibition of autophagy increases PTEN, whereas induction of autophagy decreases PTEN. In this study, we identify that autophagy-related protein p62 are required for autophagic degradation of PTEN. It suggests that autophagic degradation of PTEN through PTEN–p62 interaction is a novel tumorigenesis mechanism of HULC.
Conclusions
The present study depicts a novel provides evidence for HULC to play hepatocarcinogenesis roles by downregulating PTEN in liver cancer cells, which might be one of the mechanisms underlying the HULC in hepatocarcinogenesis and may have potential therapeutic significance. This understanding the novel functions of HULCin combination with autophagy will help in the development of new liver cancer therapeutic approaches.
Funding
This study was supported by grants from National Natural Science Fundation of China (NCSF No.81773158) and National Natural Science Fundation of China (NCSF No.81572773).
Availability of data and materials
Data sharing not applicable to this article as no data sets were generated or analyzed during the current study.
Ethics approval and consent to participate
All experimental protocols were approved by a Tongji university institutional committee. Informed consent was obtained from all subjects. The study was reviewed and approved by the China national institutional animal care and use committee.
Consent for publication
All authors agreed on the manuscript.
Competing interests
The authors declare that they have no competing interests.
Publisher's Note
Springer Nature remains neutral with regard to jurisdictional claims in published maps and institutional affiliations.
Open Access
This article is distributed under the terms of the Creative Commons Attribution 4.0 International License (
http://​creativecommons.​org/​licenses/​by/​4.​0/​
), which permits unrestricted use, distribution, and reproduction in any medium, provided you give appropriate credit to the original author(s) and the source, provide a link to the Creative Commons license, and indicate if changes were made. The Creative Commons Public Domain Dedication waiver (
http://​creativecommons.​org/​publicdomain/​zero/​1.​0/​
) applies to the data made available in this article, unless otherwise stated.