01.03.2004 | Original Article | Ausgabe 3/2004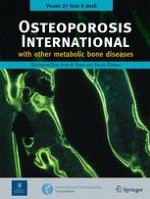 Long-term changes in bone metabolism, bone mineral density, quantitative ultrasound parameters, and fracture incidence after spinal cord injury: a cross-sectional observational study in 100 paraplegic men
Zeitschrift:
Autoren:

Yvonne Zehnder, Markus Lüthi, Dieter Michel, Hans Knecht, Romain Perrelet, Isolde Neto, Marius Kraenzlin, Guido Zäch, Kurt Lippuner
Wichtige Hinweise
Both authors, Y. Zehnder and M. Lüthi, have equally contributed to this work.
Abstract
To study the time course of demineralization and fracture incidence after spinal cord injury (SCI), 100 paraplegic men with complete motor loss were investigated in a cross-sectional study 3 months to 30 years after their traumatic SCI. Fracture history was assessed and verified using patients' files and X-rays. BMD of the lumbar spine (LS), femoral neck (FN), distal forearm (ultradistal part = UDR, 1/3 distal part = 1/3R), distal tibial diaphysis (TDIA), and distal tibial epiphysis (TEPI) was measured using DXA. Stiffness of the calcaneus (QUI.CALC), speed of sound of the tibia (SOS.TIB), and amplitude-dependent SOS across the proximal phalanges (adSOS.PHAL) were measured using QUS.
Z
-Scores of BMD and quantitative ultrasound (QUS) were plotted against time-since-injury and compared among four groups of paraplegics stratified according to time-since-injury (<1 year, stratum I; 1–9 years, stratum II; 10–19 years, stratum III; 20–29 years, stratum IV). Biochemical markers of bone turnover (deoxypyridinoline/creatinine (D-pyr/Cr), osteocalcin, alkaline phosphatase) and the main parameters of calcium phosphate metabolism were measured. Fifteen out of 98 paraplegics had sustained a total of 39 fragility fractures within 1,010 years of observation. All recorded fractures were fractures of the lower limbs, mean time to first fracture being 8.9 ± 1.4 years. Fracture incidence increased with time-after-SCI, from 1% in the first 12 months to 4.6%/year in paraplegics since >20 years (
p
<.01). The overall fracture incidence was 2.2%/year. Compared with nonfractured paraplegics, those with a fracture history had been injured for a longer time (
p
<.01). Furthermore, they had lower
Z
-scores at FN, TEPI, and TDIA (
p
<.01 to <.0001), the largest difference being observed at TDIA, compared with the nonfractured. At the lower limbs, BMD decreased with time at all sites (
r
=.49 to .78, all
p
<.0001). At FN and TEPI, bone loss followed a log curve which leveled off between 1 to 3 years after injury. In contrast,
Z
-scores of TDIA continuously decreased even beyond 10 years after injury. LS BMD
Z
-score increased with time-since-SCI (
p
<.05). Similarly to DXA, QUS allowed differentiation of early and rapid trabecular bone loss (QUI.CALC) vs slow and continuous cortical bone loss (SOS.TIB). Biochemical markers reflected a disproportion between highly elevated bone resorption and almost normal bone formation early after injury. Turnover declined following a log curve with time-after-SCI, however, D-pyr/Cr remained elevated in 30% of paraplegics injured >10 years. In paraplegic men early (trabecular) and persistent (cortical) bone loss occurs at the lower limbs and leads to an increasing fracture incidence with time-after-SCI.