01.12.2016 | Research | Ausgabe 1/2016 Open Access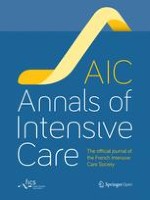 Long-term changes in dysnatremia incidence in the ICU: a shift from hyponatremia to hypernatremia
Zeitschrift:
Autoren:

Annemieke Oude Lansink-Hartgring, Lara Hessels, Joachim Weigel, Anne Marie G. A. de Smet, Diederik Gommers, Prashant V. Nannan Panday, Ewout J. Hoorn, Maarten W. Nijsten
Wichtige Hinweise
Electronic supplementary material
The online version of this article (doi:
10.​1186/​s13613-016-0124-x
) contains supplementary material, which is available to authorized users.
Abbreviations
RRT
renal replacement therapy
Background
Deranged plasma sodium concentrations expose all cells to hypotonic or hypertonic stress. Clinical manifestations of dysnatremia are primarily neurological and rapid changes in plasma sodium in either direction can cause severe, permanent, and sometimes even lethal brain injury [
1
]. The reported prevalence of dysnatremia in the intensive care unit (ICU) ranges between 6.9 and 17.7 % and varies according to the time of onset (i.e., on admission or later during ICU stay), the threshold for diagnosis, and the population being assessed [
2
].
Patients in the ICU are at risk of developing both hyponatremia and hypernatremia. Critical illness may result in increased or reduced activity of the antidiuretic hormone [
3
,
4
]. Additional factors that predispose to hypernatremia include a reduced urinary concentrating ability, the inability to express thirst, no free access to water, and increased insensible losses [
5
,
6
]. In addition to critical illness per se, factors contributing to hyponatremia include excess use of hypotonic fluids and drugs stimulating antidiuretic hormone secretion [
7
].
The severity of hyponatremia on ICU admission is a demonstrated predictor of mortality [
8
]. Even slightly abnormal sodium levels on ICU admission are independently associated with poor outcome [
2
,
9
]. Although ICU-acquired hyponatremia is less prevalent, it is also associated with an increased risk of hospital mortality [
5
]. ICU-acquired hypernatremia is also an independent risk factor for mortality and associated with increased ICU length of stay [
10
–
13
]. The relation between sodium derangement and mortality has been reported in medical, surgical, mixed, cardiac, cardiovascular surgery, trauma, and neurological ICUs [
5
,
10
–
15
]. Finally, comparable to variability in serum glucose [
16
] or potassium [
17
], the magnitude of changes in sodium has also been associated with a higher risk of death in ICU patients [
14
,
15
].
Based on our impression that hypernatremia has nowadays become more prevalent than hyponatremia in the ICU, we hypothesized that a shift in the incidence of hyponatremia and hypernatremia occurred during the past two decades. Therefore, the aim of this study was to analyze the long-term changes in the incidences of hyponatremia and hypernatremia in the ICU. Furthermore, we studied the association between dysnatremia and mortality.
Patients and methods
This retrospective study was performed in two cohorts of adult ICU patients obtained from the two largest ICUs in The Netherlands, including the University Medical Center Groningen (44 bed unit) and the Erasmus Medical Center (48 bed unit). From the ICU of the University Medical Center in Groningen, all patients admitted between 1992 and 2011 were analyzed, and from the ICU of the Erasmus Medical Center in Rotterdam, all patients admitted between 1998 and 2012 were analyzed. The 21-year study period was divided into five periods to detect shift in time: 1992–1996, 1997–2000, 2001–2004, 2005–2008, and 2009–2012. Data on the type of admission (surgical, medical, etc.) were available for patients from Groningen but not from Rotterdam. Patients aged <15 years were excluded. Mortality was determined at 90 days after ICU admission. The anonymized data analysis in this study was performed in accordance with the guidelines and Dutch legislation, and it was approved by the medical ethical committees of our institutions (Medisch Ethische Commissie, UMC Groningen, METc 2014.264, MEC Erasmus MC MEC-2015-401). Since this concerned a retrospective study on routinely collected data, informed consent was not required by the ethical committees.
Serum sodium measurements
All serum sodium measurements during ICU admission until day 28 were collected from the electronic databases of both ICUs. Serum sodium was measured at the clinical chemistry departments using standard methods (with a pre-analytic dilution, assuming a standard 7 % solid phase) or at the ICU with Radiometer 700 series blood gas analyzers with an ion-selective method that uses no pre-dilution. All sodium measurements (reference range 135–145 mmol/L) were categorized as follows: <120, 120–124, 125–129, 130–134, 135–139, 140–145, 146–150, 151–155, 156–160, >160 mmol/L. The so-called soccer field plots was generated for the 1992–1996 and the 2009–2012 periods to display the relation between ICU day and the relative incidence of dysnatremia in all patients between ICU day 1 and day 28. This way of presentation facilitates easier identification of trends in dysnatremia during the ICU stay. In these plots, dysnatremia was categorized into similar groups as defined earlier.
Pharmacy data
The hospital pharmacy of the University Medical Center in Groningen provided a list of all infusions that were administered in the ICU over the period 1997 through 2011. In addition to the total volume infused, the mean sodium content was also calculated.
Statistical analysis
Comparisons between means and medians were made with the Student's
t
test and Mann–Whitney
U
test, respectively. Distributions were compared with the Chi-square test. Data are expressed as means with standard deviations. A
p
value <0.05 was considered statistically significant. Bonferroni correction was used where appropriate. Statistical analysis was performed with SPSS (IBM, version 22).
Results
Patient characteristics
In the two centers 80,571 consecutively admitted ICU patients were included, in whom a total of 913,272 serum sodium measurements were performed (55 % from Groningen). Sixty-four percentage of patients were male; mean age was 60 ± 16 years, with a mean of 11 ± 20 serum sodium measurements/patient. Table
1
shows the type of ICU admissions in Groningen over time. The case mix of patients remained relatively stable over the study period, except for a small increase in vascular and abdominal surgery, and a small decrease in cardiothoracic surgery. In the additional data file, the data selection (Additional file
1
: Figure 1) and the frequency distribution of the number of admitted patients as a function of ICU day (Additional file
1
: Figure 2) are provided.
Table 1
Type of ICU admissions in Groningen in the five time periods
1992–1996

1997–2000

2001–2004

2005–2008

2009–2011

Total

Admission via emergency department

19

12

15

16

18

16

Vascular, abdominal and other surgery

14

17

20

21

21

18

Neurosurgery

11

10

12

14

13

12

Transplant

2

2

2

2

1

2

Cardiothoracic surgery

51

48

42

41

42

45

Trauma

4

4

5

5

5

4

Medical and miscellaneous

20

19

18

18

17

18
Long-term changes in dysnatremia
Figure
1
shows the change in distribution of serum sodium categories during ICU admission for the first time period (1992–1996, left panel) and the last time period (2009–2012, right panel). The figure clearly shows that hyponatremia was more common in the first period and that hypernatremia became more common in the last period. The figure also shows that in particular the incidence of hypernatremia increased during ICU admission (most notably in the first 2 weeks) and remained stable until day 20. On ICU day 10, for example, the incidence of hypernatremia >155 mmol/L rose from 0.7 % in 1992–1996 to 6.3 % in 2009–2012 (
p
< 0.001). Figure
2
shows a different graphical representation of the incidences of hyponatremia and hypernatremia during the five subsequent time periods. From this analysis, the decreasing prevalence of hyponatremia and the increasing incidence of hypernatremia are also clearly visible for the five consecutive time periods. For example, the incidence of hyponatremia <130 mmol/L decreased from 47 to 25 % (
p
< 0.001) from the first time period (1992–1996) to the last time period (2009–2012), whereas the incidence of hypernatremia > 150 mmol/L increased from 13 to 24 % (
p
< 0.001) in the same time periods. Over time the use of ion-selective sodium measurements has increased with the implementation of ICU-based point-of-care systems from 56 to 79 % (
p
< 0.001) in Groningen (Additional file
1
: Table 1). However, the sodium levels determined by the ion-selective assay were 1.5 mmol/L (
p
< 0.001) lower in the Groningen ICU patients. As the ion-selective sodium levels were lower while being used more frequently, this should not have contributed to the observed trend toward higher sodium levels. Although a clear difference in albumin levels and in particular glucose levels was observed between 1992 and 1996 and 2009 and 2011, their statistical relation with sodium levels was very limited (Figures 5, 6 and regression analysis in Additional file
1
).
×
×
When the changes in incidence of sodium abnormalities were analyzed separately for the Groningen and Rotterdam ICUs (Additional file
1
: Table 3, Figure 3), both ICUs showed a trend toward hypernatremia. When analysis was performed for patients with hypernatremia >150 mmol/L all subgroups except transplantation showed a trend towards a higher incidence of hypernatremia in recent cohorts.
For the Groningen ICU, we also performed similar analyses for the top 35 routine laboratory measurements that were most frequently performed. With the exception of chloride, albumin, hemoglobin, and glucose, no important shifts over time were observed (Additional file
1
: Figures 4, 5, 6). From the 1997–2000 to the 2009–2011 period, the mean sodium concentration of the infused fluids in the Groningen ICU increased from 100 to 107 mmol/L (
p
< 0.001; Additional file
1
: Table 2).
Mortality
Figure
3
shows the mortality rates with the various serum sodium categories and time periods. Dysnatremia was strongly associated with mortality and showed a U-shaped relationship. Figure
3
demonstrates that this relationship between dysnatremia and mortality remained largely unchanged over the 21-year study period. The overall mortality rose slightly from 13 % in 1992–1996 to 15 % in 1997–2000, 16 % in 2001–2004, 15 % in 2005–2008, and 16 % in 2009–2012 (
p
< 0.001).
×
Discussion
Conclusions
In two large cohorts of ICU patients, we found a shift in the incidence of dysnatremias. The incidence of hyponatremia decreased over the study period, whereas the incidence of hypernatremia increased. We suggest this shift is related to the increased use of diuretics and hydrocortisone. As ICU-acquired hypernatremia is often iatrogenic, it thus may be—to an important extent—preventable, and its incidence may be considered as a quality indicator. The relation of dysnatremia with mortality remained unchanged over the 21-year study period; therefore, we recommend that further study should be focused on interventions to prevent the occurrence of dysnatremias during ICU stay.
Authors' contributions
AOL conceived, helped to execute, and drafted the manuscript of the study. LH helped to interpret the data and helped to revise the manuscript. JW helped to execute the study, performed data collection, and helped to revise the manuscript. AMS and DG made substantial contributions to the analysis and interpretation of the data and revised the manuscript critically. EH participated in the design of the study, performed the data collection, and revised the manuscript. MN provided overall supervision of this project and was involved in designing this study, data collection, and analysis as well as revising the manuscript critically. All authors read and approved the final manuscript.
Acknowledgements
Dr. W. Bult, Department of Clinical Pharmacy and Pharmacology, University Medical Center Groningen, Groningen, The Netherlands, for supplying the data of the administered infusion fluids in the UMCG.
Competing interests
The authors declare that they have no competing interests.
Open Access
This article is distributed under the terms of the Creative Commons Attribution 4.0 International License (
http://​creativecommons.​org/​licenses/​by/​4.​0/​
), which permits unrestricted use, distribution, and reproduction in any medium, provided you give appropriate credit to the original author(s) and the source, provide a link to the Creative Commons license, and indicate if changes were made.