30.06.2017 | Original Article | Ausgabe 11/2017 Open Access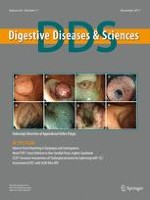 Long-Term Clinical Outcomes After Switching from Remicade® to Biosimilar CT-P13 in Inflammatory Bowel Disease
Zeitschrift:
Autoren:

Lisa J. T. Smits, Anna Grelack, Lauranne A. A. P. Derikx, Dirk J. de Jong, Aura A. J. van Esch, Ronald S. Boshuizen, Joost P. H. Drenth, Frank Hoentjen
Abstract
Background
Limited data are available on long-term clinical outcomes regarding the switch from Remicade® to the infliximab biosimilar CT-P13 in inflammatory bowel disease (IBD) patients.
Aims
To investigate long-term efficacy, safety, pharmacokinetic profile, and immunogenicity.
Methods
We performed a single-center prospective observational cohort study following an elective switch from Remicade® to CT-P13 in IBD patients.
Results
Eighty-three patients were included (57 Crohn's disease, 24 ulcerative colitis, and 2 IBD unclassified), and 68 patients completed one-year follow-up. Disease activity (Harvey–Bradshaw Index and Simple Clinical Colitis Activity Index) as well as inflammatory markers (CRP, fecal calprotectin) did not change significantly during the 1-year follow-up. In total, 7 out of 83 patients (8%) demonstrated detectable antidrug antibodies during follow-up, and 5 out of 7 antidrug antibody titers were already detectable at baseline prior to switching. Six patients (7%) discontinued CT-P13 due to adverse events.
Conclusions
Following a switch from Remicade® to CT-P13, 82% of IBD patients continued treatment through 1 year. Disease activity scores and inflammatory markers remained unchanged during follow-up, and no CT-P13-related serious adverse events occurred. These 1-year data suggest that switching to CT-P13 in Remicade®-treated IBD patients is safe and feasible.