09.11.2019 | Original Research | Ausgabe 3/2019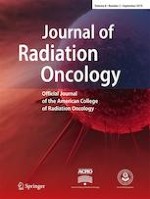 Long-term clinical outcomes of 538 prostate carcinoma patients treated with combination high-dose-rate brachytherapy and external beam radiotherapy
Zeitschrift:
Autoren:

Brandon M. Lehrich, John Ravera, Navid Mostaghni, Jeffrey Yoshida, Robert Torrey, Ruben Baghdassarian, Michael Gazzaniga, Alan Weinberg, Cu Phan, Stuart Chalfin, Lucy Barnes, Albert Mesa, Kenneth Tokita
Wichtige Hinweise
Publisher's note
Springer Nature remains neutral with regard to jurisdictional claims in published maps and institutional affiliations.
Abstract
Purpose
We report on the long-term clinical outcomes of clinically localized prostate carcinoma (PCa) patients treated with external beam radiotherapy (EBRT) in combination with high-dose-rate brachytherapy boost (HDR-B).
Material and methods
Between 2002 and 2015, 538 prostate carcinoma patients underwent combined HDR-B (Ir-192) of 16 Gy over 4 fractions and EBRT of 59.4 Gy over 33 fractions. Patients were segregated into risk groups according to the NCCN guidelines. The Cox proportional hazards model was used to elicit risk factors for decreased biochemical relapse-free survival (bRFS), distant metastasis-free survival (dMFS), and overall survival (OS). Patients were graded by a board of radiation oncologists for gastrointestinal (GI) and genitourinary (GU) adverse events due to radiation using CTCAE v4.03 guidelines at follow-up.
Results
The mean follow-up was 49 months (range 6–145 months). Five-year bRFS for low-, intermediate-, and high-risk patients were 96.7%, 93.0%, and 78.5%, respectively. Five-year dMFS for low-, intermediate-, and high-risk patients were 100%, 96.4%, and 80.7%, respectively. Five-year OS rates for low-, intermediate-, and high-risk patients were 98.6%, 97.5%, and 94.7%, respectively. Five-year incidence of late grade 2 and 3 GI toxicities were 6.3% and 0.7%, respectively, and the five-year incidence of late grade 2 and 3 GU toxicities were 11.7% and 1.3%, respectively. Multivariate analysis revealed a higher Gleason score, initial pre-treatment PSA, and no hormonal therapy use as predictive for decreased biochemical control.
Conclusion
Combined HDR-B/EBRT for the treatment of clinically localized prostate cancer provides superb clinical outcomes with excellent 5-year bRFS, dMFS, OS, and late GI/GU toxicity rates.