01.01.2012 | Clinical Article | Ausgabe 1/2012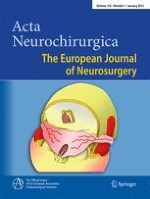 Long-term cognitive dysfunction in patients with traumatic subarachnoid hemorrhage: prevalence and risk factors
Zeitschrift:
Autoren:

George Kwok Chu Wong, Karine Ngai, Adrian Wong, Sandy Wai Lam, Vincent C. T. Mok, Janice Yeung, Timothy Rainer, Rosanna Wong, Wai Sang Poon
Wichtige Hinweise
Comment
Cognitive and neuropsychological dysfunction has been reported in patients with aneurysmal and nonaneurysmal hemorrhage but no study has reported the cognitive effects in patients with tSAH. Moreover, the presence of bleeding in the subarachnoidal space in not operated patients has been demonstrate to leave to long-term cognitive and neuropsychological impairments, so that the presence of subarachnoidal blood after brain injury is expected to generate similar deficiency.
In this study Wong et al. investigated the profiles and risk factors of cognitive complications using GOS-E, SF-36, and GDS in 47 patients with tSAH. As results age, GCS, and extent of the SAH seems to be prognostic factors for long-term cognitive impairments. The issue is relevant in order to prevent and/or to treat early cognitive and neuropsychological patients with such type of disorder and to systematize the prognosis factors. The research is excellent performed and the data are clear exposed. Larger studies are needed to confirm these findings, with genetical and/or biomolecular studies to elucidate the pathophysiology of the different outcomes.
Alex Alfieri
David Hoza
Halle-Wittenberg, Germany
Abstract
Background
Cognition had recently been suggested as a supplement to traditional measures of neurological outcome. However, no data were available in the literature on long-term cognitive outcomes in patients with traumatic subarachnoid hemorrhage (tSAH).
Objective
We explored the long-term cognitive profiles of patients with tSAH who had returned to the community, and the risk factors associated with this event.
Methods
Patients with tSAH were contacted to obtain their consent to participate in the study of cognitive profiles and outcome. Forty-seven (42%) of 111 eligible patients completed all the assessments.
Results
Time from ictus to assessment ranged from 3 to 5 years. No difference in patient characteristics was observed between those who participated and those who did not. In patients with tSAH who had returned to the community, domain deficits and cognitive impairment were correlated with the extended Glasgow outcome scale (GOS-E), and were predicted by age and Glasgow coma scale (GCS) on admission. The accuracies of classifications were 79% and 81%, respectively. The number of domain deficits was also correlated with GOS-E, and was predicted by age, GCS on admission, and the extent of tSAH, with a total
R
2
value of 50%.
Conclusions
Long-term cognitive dysfunction is common after tSAH. In addition to GCS on admission and follow-up GOS-E, the extent of tSAH is an independent risk factor for the number of cognitive domain deficits that occur.