26.10.2017 | Original Research | Ausgabe 6/2017 Open Access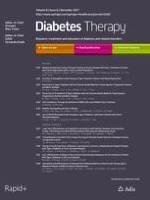 Long-Term Effectiveness of Liraglutide in Association with Patients' Baseline Characteristics in Real-Life Setting in Croatia: An Observational, Retrospective, Multicenter Study
Zeitschrift:
Autoren:

Maja Cigrovski Berkovic, Ines Bilic-Curcic, Davorka Herman Mahecic, Marina Gradiser, Mladen Grgurevic, Tomislav Bozek
Abstract
Introduction
Glucagon-like peptide-1 (GLP-1) receptor agonists (RAs) are recommended therapy for type 2 diabetes (T2DM) and liraglutide is the most used worldwide. We assessed the glycemic efficacy and extra-glycemic effects of liraglutide during 36 months' follow-up of individuals with poorly regulated T2DM under routine clinical practice and sought to identify the phenotype of treatment responders.
Methods
A total of 207 individuals were included. The primary endpoint was the proportion of participants with HbA1c < 7.0% and/or weight reduction. Secondary endpoints included changes in lipids, blood pressure, fasting c-peptide, and antidiabetic treatment during follow-up of 3 years.
Results
Liraglutide was prescribed to 89.8% of participants already on at least two antidiabetic medications and 18% on insulin. Subject's mean age was 53.28 ± 9.42 years with duration of diabetes 8.29 ± 4.89 years. Baseline HbA1c was 8.5 ± 1.3% and body mass index (BMI) was 39 ± 4.5 kg/m
2
. Reduction of HbA1c was observed in 84.4% of participants, and 89.2% experienced average weight reduction of 5 kg. A composite outcome (reduction of HbA1c with any weight loss) was achieved in 76.2% of patients. After 6 months on liraglutide treatment, 38.1% of participants achieved target HbA1c level < 7%. This effect was maintained for 36 months in 50.8% of subjects. Increase in c-peptide was evident after 24 months (
p
= 0.030). Participants experienced a significant reduction in systolic blood pressure (BP) (
p
= 0.003), while there was no effect on diastolic BP, lipid profile, or liver enzymes. The number of participants treated with sulfonylurea decreased from 60.8% to 17.5%, while the number treated with insulin and sodium-glucose co-transporter-2 (SGLT-2) inhibitor increased (17.6% to 24.6% and 2.5% to 36.8%, respectively). Independent predictors of durability of HbA1c reduction were initial BMI (
p
= 0.004), HbA1c (
p
< 0.001), systolic BP (
p
= 0.007), and cholesterol (
p
= 0.020). Moreover, female gender and shorter duration of diabetes were independent predictors for HbA1c reduction.
Conclusion
Liraglutide shows sustained glycemic and extra-glycemic effects when used for treatment of obese poorly regulated individuals with T2DM.