13.11.2017 | Original Paper | Ausgabe 2/2018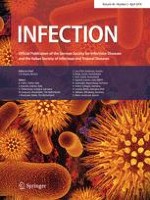 Long-term efficacy of comprehensive multidisciplinary antibiotic stewardship programs centered on weekly prospective audit and feedback
Zeitschrift:
Autoren:

Takeshi Kimura, Atsushi Uda, Tomoyuki Sakaue, Kazuhiko Yamashita, Tatsuya Nishioka, Sho Nishimura, Kei Ebisawa, Manabu Nagata, Goh Ohji, Tatsuya Nakamura, Chihiro Koike, Mari Kusuki, Takeshi Ioroi, Akira Mukai, Yasuhisa Abe, Hiroyuki Yoshida, Midori Hirai, Soichi Arakawa, Ikuko Yano, Kentaro Iwata, Issei Tokimatsu
Abstract
Objective
To evaluate the long-term effects of comprehensive antibiotic stewardship programs (ASPs) on antibiotic use, antimicrobial-resistant bacteria, and clinical outcomes.
Design
Before–after study.
Setting
National university hospital with 934 beds.
Intervention
Implementation in March 2010 of a comprehensive ASPs including, among other strategies, weekly prospective audit and feedback with multidisciplinary collaboration.
Methods
The primary outcome was the use of antipseudomonal antibiotics as measured by the monthly mean days of therapy per 1000 patient days each year. Secondary outcomes included overall antibiotic use and that of each antibiotic class, susceptibility of
Pseudomonas aeruginosa
, the proportion of patients isolated methicillin-resistant
Staphylococcus aureus
(MRSA) among all patients isolated
S. aureus
, the incidence of MRSA, and the 30-day mortality attributable to bacteremia.
Results
The mean monthly use of antipseudomonal antibiotics significantly decreased in 2011 and after as compared with 2009. Susceptibility to levofloxacin was significantly increased from 2009 to 2016 (
P
= 0.01 for trend). Its susceptibility to other antibiotics remained over 84% and did not change significantly during the study period. The proportion of patients isolated MRSA and the incidence of MRSA decreased significantly from 2009 to 2016 (
P
< 0.001 and = 0.02 for trend, respectively). There were no significant changes in the 30-day mortality attributable to bacteremia during the study period (
P
= 0.57 for trend).
Conclusion
The comprehensive ASPs had long-term efficacy for reducing the use of the targeted broad-spectrum antibiotics, maintaining the antibiotic susceptibility of
P. aeruginosa,
and decreasing the prevalence of MRSA, without adversely affecting clinical outcome.