26.11.2018 | Original Article | Ausgabe 3/2019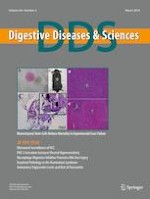 Long-Term Efficacy of Peroral Endoscopic Myotomy for Patients with Achalasia: Outcomes with a Median Follow-Up of 36 Months
Zeitschrift:
Autoren:

Chenghai He, Meng Li, Bin Lu, Xiao Ying, Chen Gao, Shuangshuang Wang, Chengao Ma, Chaoqiong Jin
Abstract
Objective
This study aimed to evaluate the long-term efficacy of peroral endoscopic myotomy (POEM) for patients with achalasia.
Methods
Prospective data collected from 115 patients (median age 45 years; interquartile range 34–57) with achalasia who underwent POEM at the First Affiliated Hospital of ZheJiang Chinese Medical University with a median follow-up of 36 months were retrospectively analyzed. The Eckardt score and lower esophageal sphincter pressure changes were analyzed, and the gastroesophageal reflux was observed.
Results
During the final follow-up, the mean Eckardt score reduced from 7.5 ± 1.9 preoperatively to 2.3 ± 1.4 after 1 month of surgery (
P 
< 0.001). Treatment success was observed in 91.3% [confidence interval (CI) 86.2–96.4], 90.3% (CI 84.8–95.8), 89.0% (CI 83.1–94.9), 83.7% (CI 75.7–91.7), and 80.1% (CI 69.7–90.5) of patients after 12, 24, 36, 48, and 60 months, respectively. A total of 16 (13.9%) failures occurred. Four patients were nonresponders (failure within 3 months), eight had an early recurrence (between 3 months and 3 years), and four had a late recurrence (after 3 years). Further, 21 (20.6%) patients had symptoms of reflux during the two-year follow-up. Only one patient with symptomatic reflux was newly added during the subsequent three-year follow-up. Moreover, 71 (61.7%) patients underwent gastroscopy after POEM, and 13 (18.3%) patients were diagnosed with reflux esophagitis.
Conclusion
POEM is safe and effective in treating achalasia and has a favorable long-term efficacy.