04.03.2020 | Original Contributions | Ausgabe 7/2020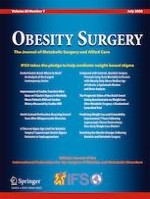 Long-Term Evaluation of Biliary Reflux on Esogastric Mucosae after One-Anastomosis Gastric Bypass and Esojejunostomy in Rats
Zeitschrift:
Autoren:

Leïla M'Harzi, Jean-Marc Chevallier, Anais Certain, Gwennhaël Autret, Guillaume Levenson, David Louis, Tigran Poghosyan, Arthur Berger, Gabriel Rahmi, Chloé Broudin, Olivier Clément, Richard Douard, Bertrand Tavitian, Matthieu Bruzzi
Wichtige Hinweise
Publisher's Note
Springer Nature remains neutral with regard to jurisdictional claims in published maps and institutional affiliations.
Abstract
Background
One-anastomosis gastric bypass/mini-gastric bypass (OAGB/MGB) remains controversial because it may cause chronic biliary reflux (BR). The risk of developing esogastric cancer due to BR after OAGB/MGB is based on the results of experimental rat studies using esojejunostomy (EJ). The aim of this study was to analyze the potential long-term consequences of BR on the esogastric mucosae in OAGB/MGB-operated rats and to compare these results to those from the use of EJ.
Methods
Wistar rats received OAGB/MGB (
n
 = 16), EJ (
n
 = 16), and sham (
n
 = 8) operations. Mortality and weight changes were evaluated throughout the experiment. BR was measured using magnetic resonance imaging (MRI). Rats received follow-ups for 30 weeks. A double-blinded histological analysis was performed in the esogastric segments.
Results
BR was diagnosed in OAGB/MGB and EJ rats using the MRI technique; no BR occurred in the sham group. After a 30-week follow-up, no incidences of dysplasia or cancer were observed in the three groups. Additionally, esophageal intestinal metaplasia and mucosal ulcerations were observed in 41.7% and 50% of EJ rats, respectively, and no incidences of these conditions were observed in OAGB/MGB and sham rats. The incidence of esophagitis was significantly higher and more severe in the EJ group compared to those in the OAGB/MGB and sham groups (EJ = 100%, OAGB/MGB = 16.7%, sham = 8.3%;
p
 < 0.001).
Conclusions
After a 30-week follow-up period, OAGB/MGB rats did not develop any precancerous or cancerous lesions when more than 40% of EJ rats had intestinal metaplasia.