12.05.2020 | Original Article | Ausgabe 12/2020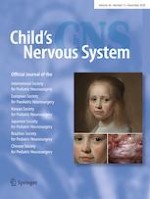 Long-term evaluation of hand function in children undergoing Oberlin and Oberlin-like procedures for reinnervation of the biceps muscle
Zeitschrift:
Autoren:

Mario G. Siqueira, Carlos Otto Heise, Mariana Pessa, Monise Zacariotto, Roberto S. Martins
Wichtige Hinweise
Publisher's note
Springer Nature remains neutral with regard to jurisdictional claims in published maps and institutional affiliations.
Abstract
Purpose
Long-term evaluation of hand function in children who underwent transfer procedures to reinnervate the biceps muscle, using fascicles from the ulnar and median nerves as donors.
Methods
In the last follow-up evaluation, the children underwent a neurological examination, and their hand status was classified according to the Raimondi grading system for hand function. Two physical measurements, the child health assessment questionnaire (CHAQ) and the Sollerman hand function test, were applied to assess upper extremity function.
Results
Eight children were re-evaluated. In four the donor fascicle was from the ulnar nerve and in four from the median nerve. The average interval between surgery and the last evaluation was 8.3 years (range 6–10 years). Five patients scored 5 points in the Raimondi grading system, and 3 patients scored 4 points. The results from the CHAQ ranged from 0.03 to 0.41. The results from the Sollerman test were between 60 and 77 for the affected upper limb and between 65 and 79 for the dominant upper limb.
Conclusion
Nerve transfer of a fascicle from the ulnar or median nerve to the biceps motor branch in children with neonatal brachial plexus palsy does not result in hand dysfunction.