01.12.2015 | Research article | Ausgabe 1/2015 Open Access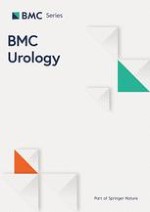 Long-term experience of hyperbaric oxygen therapy for refractory radio- or chemotherapy-induced haemorrhagic cystitis
Zeitschrift:
Autoren:

Stephan Degener, Alexander Pohle, Hartmut Strelow, Michael J Mathers, Jürgen Zumbé, Stephan Roth, Alexander S Brandt
Wichtige Hinweise
Competing interests
The authors declare that they have no competing interests.
Authors' contributions
S.D. and A.S.B. have made conception, design and analysis of data. S.D., A.P., H.S. and M.J.M. have made acquisition of data. J.Z. and S.R. reviewed the manuscript critically. All authors approved the final version of the manuscript.
Abstract
Background
Radiotherapy and cyclophosphamide-induced haemorrhagic cystitis are rare but severe complications occurring in 3–6% of patients. Hyperbaric oxygen treatment (HBOT) has been demonstrated to be an effective treatment for haematuria not responding to conventional management. Only very few data exist for long-term follow-up after HBOT.
Methods
We retrospectively reviewed 15 patients referred for HBOT for haemorrhagic cystitis (HC). HBOT was performed for 130 min/day at a pressure of 2.4 atmospheres. We evaluated patient demographics, type of radio- and chemotherapy and characteristics of haematuria. The effect of HBOT was defined as complete or partial resolution of hematuria according to the RTOG/EORTC grade and Gray score.
Results
A total of 15 patients (12 after radiotherapy, two after chemotherapy and one patient with a combination of both) were treated with a median of 34 HBO treatments. Radiotherapy patients received primary, adjuvant, salvage and HDR radiotherapy (60 – 78 Gy) for prostate, colon or cervical cancer. The patient with combination therapy and both of the chemotherapy patients were treated with cyclophosphamide. First episodes of haematuria occurred at a median of 48 months after completion of initial therapy. The first HBOT was performed at a median of 11 months after the first episode of hematuria. After a median of a 68-month follow-up after HBOT, 80% experienced a complete resolution and two patients suffered a singular new minor haematuria (p < 0.00001). A salvage-cystectomy was necessary in one patient. No adverse effects were documented.
Conclusions
Our experience indicate that HBOT is a safe and effective therapeutic option for treatment-resistant radiogenic and chemotherapy-induced haemorrhagic cystitis. For a better evaluation prospective clinical trials are required.