10.02.2020 | Original Contributions | Ausgabe 6/2020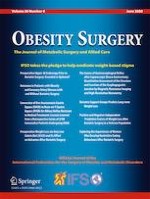 Long-term Impact of Mini-Gastric Bypass on Inflammatory Cytokines in Cohort of Morbidly Obese Patients: a Prospective Study
Zeitschrift:
Autoren:

Mohamed Abdalla Salman, Ahmed Abdallah, Hani Maurice Sabri Mikhail, Ahmed Abdelsalam, Ayman Helmy Ibrahim, Ahmed Abd El Aal Sultan, Mohamed El-ghobary, Amro Abdelaziz Mohammed Ismail, Tarek Elsayed Abouelregal, Mahmoud Gouda Omar, Alhoussein Alsayed AbdelAal, Hossam El-Din Shaaban, Ghada M. K. GabAllah, Mohamed Tourky, Ahmed Abdallah Salman
Wichtige Hinweise
Publisher's Note
Springer Nature remains neutral with regard to jurisdictional claims in published maps and institutional affiliations.
Abstract
Purpose
One anastomosis gastric bypass (OAGB) is a promising bariatric procedure. We performed this study to evaluate the changes in a group of inflammatory cytokines 12 months after OAGB.
Methods
A single-arm prospective study was conducted on obese patients who underwent OAGB. The serum levels of the following adipocytokines were monitored pre- and 12 months postoperatively: adiponectin, leptin, interleukin 6 (IL-6), interleukin 8 (IL-8) levels, tumor necrosis factor-alpha (TNF-α), serum amyloid A (SAA), high-sensitivity C-reactive protein (hs-CRP), and monocyte chemotactic protein 1 (MCP-1).
Results
A total of 62 patients were included with a mean age of 43.9 ± 6.8 years old. The serum adiponectin increased significantly from 7.64 ± 0.29 to 8.76 ± 0.42 μg/mL 12 months after the operation (
p
 < 0.001). hs-CRP and IL-6 decreased significantly 12 months after the OAGB from 3323.35 ± 643.4 ng/mL and 3.72 ± 7.7 pg/mL to 1376.81 ± 609.4 ng/mL and 3.64 ± 6.9 pg/mL, respectively (
p
 < 0.001). The MCP-1 showed significant increase in its level after OAGB as well (
p
 = 0.014). In contrary, there were no significant changes in serum levels of IL-8 (
p
 = 0.12) and TNF-α (
p
 = 0.84) 12 months after the operation. The correlation analysis showed significant correlations between initial body mass index (BMI) with serum adiponectin, IL-8, and serum SAA.
Conclusion
OAGB can significantly impact the inflammatory cytokine profile in obese patients with possible subsequent protection from obesity-related comorbidities such as insulin resistance, cardiovascular diseases, and certain cancers.