01.12.2015 | Research article | Ausgabe 1/2015 Open Access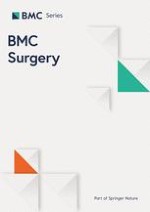 Long-term outcome after bilateral lung transplantation – a retrospective study from a low-volume center experience
Zeitschrift:
Autoren:

Shun-Mao Yang, Shu-Chien Huang, Shuenn-Wen Kuo, Pei-Ming Huang, Sung-Ching Pan, Jang-Ming Lee, Hong-Shiee Lai, Hsao-Hsun Hsu
Wichtige Hinweise
Shun-Mao Yang and Shu-Chien Huang contributed equally to this work.
Competing interests
No author has financial or other interest in the product or distributor of the product involved in the present study.
Authors' contributions
SMY, HHH, SCH, SWK, PMH, SCP, and JML were all involved in the transplant surgery, including the donor procurement and recipient transplantation. SCH, SWK, and SMY set up and maintained the ECMO life support system. HHH, SMY, SCH, and HSL has been involved in drafting the manuscript and also made substantial contributions to conception and design of the study, and acquisition of data. HHH, SCH, SWK, SMY, SCP, and JML were also involved in the postoperative patients' care. SMY, SWK, PMH, HSL, and JML substantial contributions to conception and design as well as interpretation of data. HHH was the director responsible for general organization and instruction. All authors read and approved the final manuscript.
Abstract
Background
The aim of this study is to review the long-term outcomes of bilateral lung transplantation (BLTx) in our institution and examine the potential issues that may influence outcomes in a low-volume center.
Methods
A retrospective review of BLTx performed in our institution between July 2006 and December 2012 was conducted. Standardized donor selection, procurement, and preservation protocols for brain-dead donors were applied. Measured outcomes were in-hospital mortality and actuarial survival using the Kaplan-Meier method.
Results
Twenty-five consecutive patients (13 male, 12 female) underwent BLTx with a mean age of 41.8 ± 13.5 years. Before LTx, the mean body mass index was 18.3 ± 3.1 kg/m2. Seven of these patients (28%) required oxygen supplementation at rest before LTx, while the remaining patients (72%) required noninvasive mechanical ventilation (n = 6, 24%), invasive mechanical ventilation (n = 9, 36%) or extracorporeal membrane oxygenation (ECMO) (n = 3, 12%). The lung grafts were procured from brain-dead donors with the mean age of 26.8 ± 11.4 year and the best PaO2 / FiO2 ratio of 513 ± 77 before procurement. All cross match results between same-race donors and recipients were negative. The percentage of same-sex matching and CMV mismatching were 64% and 4%, respectively. The mean time listed on the transplant list was 308 ± 261 days. The mean ischemic time for the first and second grafts were 222 ± 62 and 361 ± 67 minutes. During transplantation, 22 (88%) patients depended on ECMO and one (4%) on cardiopulmonary bypass support. All but two patients (82%) were discharged home in good condition; two (8%) patients died within 3 months after BLTx. The cumulative survival rates at 1-, 2-, 3-, and 5-years were 88%, 83%, 72%, and 72%, respectively.
Conclusions
Although the comparatively few annual LTx performed is consistent with the low donation rate, our single-center growing experience demonstrates that good post-lung transplant outcomes can be achieved at a low-volume LTx center.