04.03.2019 | Breast Oncology | Ausgabe 5/2019 Open Access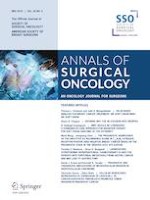 Long-Term Outcome After Retro-Areolar Versus Peri-Tumoral Injection of Superparamagnetic Iron Oxide Nanoparticles (SPIO) for Sentinel Lymph Node Detection in Breast Cancer Surgery
Zeitschrift:
Autoren:

MD Fredrik Wärnberg, Evelina Stigberg, MD Christine Obondo, PhD, MD Helena Olofsson, PhD, MD Shahin Abdsaleh, Madeleine Wärnberg, PhD, MD Andreas Karakatsanis
Wichtige Hinweise
Publisher's Note
Springer Nature remains neutral with regard to jurisdictional claims in published maps and institutional affiliations.
Abstract
Background/Objective
SPIO is effective in sentinel node (SN) detection. No nuclear medicine department is needed, and no allergic reactions have occurred. This study aimed to compare retro-areolar and peri-tumoral SPIO injections regarding skin staining, detection rates and number of SNs.
Methods
Data on staining size, intensity and cosmetic outcome (0–5; 0 = no problem) were collected by telephone interviews with 258 women undergoing breast conservation. SN detection and the number of SNs were prospectively registered in 332 women.
Results
After retro-areolar and peri-tumoral injections, 67.3% and 37.8% (
p
 < 0.001) developed skin staining, with remaining staining in 46.2 vs. 9.4% after 36 months (
p
 < 0.001). Initial mean size was 16.3 vs. 6.8 cm (
p
 < 0.001) and after 36 months, 6.6 vs. 1.8 cm
2
(
p
 < 0.001). At 75.1% of 738 interviews, staining was reported paler. After retro-areolar injections, cosmetic outcome scored worse for 2 years. The mean (median) scores were 1.3(0) vs. 0.5(0) points, and 0.2(0) vs. 0.1(0) points, at 12 and 36 months, respectively. Overall detection rates were 98.3% and 97.4% (
p
 = 0.43) and the number of SNs 1.35 vs. 1.57 (
p
 = 0.02) after retro-areolar and peri-tumoral injections. Injection, regardless of type, 1–27 days before surgery increased detection rates with SPIO, 98.0% vs. 94.2% (
p
 = 0.06) ,and SN numbers, 1.56 vs. 1.27 (
p
 = 0.003).
Conclusion
SPIO is effective and facilitates planning for surgery. Peri-tumoral injection reduced staining with a similar detection rate. Staining was not considered a cosmetic problem among most women. Injecting SPIO 1–27 days before surgery increased the detection rate by 3.8% and increased the number of SNs by 0.3.