01.12.2018 | Research | Ausgabe 1/2018 Open Access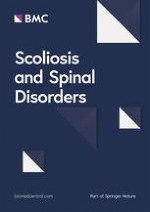 Long-term outcome of posterior spinal fusion for the correction of adolescent idiopathic scoliosis
Zeitschrift:
Autoren:

Hasan Ghandhari, Ebrahim Ameri, Farshad Nikouei, Milad Haji Agha Bozorgi, Shoeib Majdi, Mostafa Salehpour
Abstract
Background
Adolescent idiopathic scoliosis (AIS) is the most common form of idiopathic scoliosis, and surgery is considered as one of the therapeutic options. However, it is associated with a variety of irreversible complications, in spite of the benefits it provides. Here, we evaluated the long-term outcome of posterior spinal fusion (PSF) of AIS to shed more light on the consequences of this surgery.
Methods
In a cross-sectional study, a total of 42 AIS patients who underwent PSF surgery were radiographically and clinically inspected for the potential post-operative complications. Radiographic assessments included the device failure, union status, and vertebral tilt below the site of fusion. Clinical outcomes were evaluated using the Oswestry disability index (ODI) and visual analogue scale (VAS).
Results
The mean age of the surgery was 14.4 ± 5.1 years. The mean follow-up of the patients was 5.6 ± 3.2 years. Complete union was observed in all patients, and no device failure was noticed. Pre- and post-operative vertebral tilt below the site of fusion were 11.12° ± 7.92° and 6.21° ± 5.73°, respectively (
p
 < 0.001). The mean post-operative ODI was 16.7 ± 9.8. The mean post-operative VAS was 2.1 ± 0.7. ODI value was positively correlated with follow-up periods (
p
 = 0.04,
r
 = 0.471). New degenerative disc disease (DDD) was observed in 6 out of 37 (16%) patients.
Conclusion
In spite of the efficacy and safety of PSF surgery of AIS, it might result in irreversible complications such as DDD. Moreover, the amount of post-operative disability might increase over the time and should be discussed with the patients.