27.09.2016 | Ausgabe 6/2016 Open Access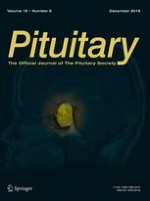 Long-term outcomes of children treated for Cushing's disease: a single center experience
Zeitschrift:
Autoren:

Galina Yordanova, Lee Martin, Farhad Afshar, Ian Sabin, Ghassan Alusi, Nicholas P. Plowman, Fiona Riddoch, Jane Evanson, Matthew Matson, Ashley B. Grossman, Scott A. Akker, John P. Monson, William M. Drake, Martin O. Savage, Helen L. Storr
Abstract
Purpose
Pediatric Cushing's disease (CD) is rare and there are limited data on the long-term outcomes. We assessed CD recurrence, body composition, pituitary function and psychiatric comorbidity in a cohort of pediatric CD patients.
Methods
Retrospective review of 21 CD patients, mean age at diagnosis 12.1 years (5.7–17.8), managed in our center between 1986 and 2010. Mean follow-up from definitive treatment was 10.6 years (2.9–27.2).
Results
Fifteen patients were in remission following transsphenoidal surgery (TSS) and 5 were in remission following TSS + external pituitary radiotherapy (RT). One patient underwent bilateral adrenalectomy (BA). CD recurrence occurred in 3 (14.3 %) patients: 2 at 2 and 6 years after TSS and 1 7.6 years post-RT. The BA patient developed Nelson's syndrome requiring pituitary RT 0.6 years post-surgery. Short-term growth hormone deficiency (GHD) was present in 14 patients (81 % patients tested) (11 following TSS and 3 after RT) and 4 (44 % of tested) had long-term GHD. Gonadotropin deficiency caused impaired pubertal development in 9 patients (43 %), 4 requiring sex steroid replacement post-puberty. Four patients (19 %) had more than one pituitary hormone deficiency, 3 after TSS and 1 post-RT. Five patients (24 %) had long-term psychiatric co-morbidities (cognitive dysfunction or mood disturbance). There were significant long-term improvements in growth, weight and bone density but not complete reversal to normal in all patients.
Conclusions
The long-term consequences of the diagnosis and treatment of CD in children is broadly similar to that seen in adults, with recurrence of CD after successful treatment uncommon but still seen. Pituitary hormone deficiencies occurred in the majority of patients after remission, and assessment and appropriate treatment of GHD is essential. However, while many parameters improve, some children may still have mild but persistent defects.