01.12.2018 | Research article | Ausgabe 1/2018 Open Access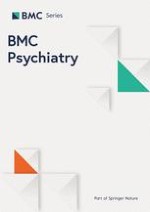 Long-term psychiatric inpatients' perspectives on weight gain, body satisfaction, diet and physical activity: a mixed methods study
Zeitschrift:
Autoren:

Susanna Every-Palmer, Mark A. Huthwaite, Jane L. Elmslie, Eve Grant, Sarah E. Romans
Abstract
Background
Obesity is a significant problem for people with serious mental illness. We aimed to consider body size from the perspective of long-stay psychiatric inpatients, focussing on: weight gain and its causes and impacts; diet and physical activity; and the perceived ability to make meaningful change in these domains.
Method
A mixed methods study with 51 long-term psychiatric forensic and rehabilitation inpatients using semi-structured interviews combined with biometric and demographic data.
Results
94% of participants were overweight or obese (mean BMI 35.3, SD 8.1). They were concerned about their weight, with 75% of them attempting to lose weight. Qualitative responses indicated low personal effectiveness and self-stigmatisation. Participants viewed their weight gain as something 'done to them' through medication, hospitalisation and leave restrictions. A prevailing theme was that institutional constraints made it difficult to live a healthy life
(just the way the system is
). Many had an external locus of control, viewing weight loss as desirable but unachievable, inhibited by environmental factors and requiring a quantum of motivation they found hard to muster. Despite this, participants were thoughtful and interested, had sound ideas for weight loss, and wished to be engaged in a shared endeavour to achieve better health outcomes. Consulting people as experts on their experiences, preferences, and goals may help develop new solutions, remove unidentified barriers, and improve motivation.
Conclusions
The importance of an individualised, multifactorial approach in weight loss programmes for this group was clear. Patient-led ideas and co-design should be key principles in programme and environmental design.