13.02.2019 | Psycho-oncology | Sonderheft 2/2019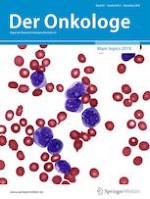 Long-term quality of life in head and neck cancer patients
A systematic review
Zeitschrift:
Autoren:

Katherine Taylor, Susanne Singer
Abstract
Background
Although a head and neck cancer prognosis does not have a promising long-term prognosis, approximately 50% will survive at least 5‑years, depending on the type of cancer. Evidence on the quality of life among these long-term survivors is sparse.
Methods
A PubMed search was conducted to find articles that reported quality of life outcomes for head and neck cancer patients surviving 5‑years and longer.
Results
8 studies from a mix of countries using 4 different measurement tools were identified. All but two had very small patient numbers. Results indicate that survivors have especially difficulties with sleeping, pain, fatigue, dyspnoea, swallowing and chewing; functional scores were sometimes lower (worse) than results from general populations, but also the same in one case.
Conclusions
A clear picture of the quality of life among this unique patient group is still lacking. There is evidence that some patients have difficulty with swallowing and dry mouth, as well as problems with sleep, fatigue, pain and dyspnoea. A study to include large numbers of these unique patient group is warranted.