01.05.2011 | Clinical Research | Ausgabe 5/2011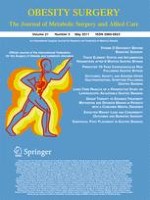 Long-Term Results of a Prospective Study on Laparoscopic Adjustable Gastric Banding for Morbid Obesity
Zeitschrift:
Autoren:

Y. Van Nieuwenhove, W. Ceelen, A. Stockman, H. Vanommeslaeghe, E. Snoeck, K. Van Renterghem, D. Van de Putte, P. Pattyn
Abstract
Background
The objective of this study was to study the long-term outcome of adjustable gastric banding in the treatment of morbid obesity. In Europe, the preference for gastric band has declined in favor of Roux-Y-gastric bypass.
Methods
This is a follow-up of a prospective study on a large cohort of patients after laparoscopic gastric banding (LAGB) for morbid obesity.
Results
Complete data were collected on 656 patients (88%) from a cohort of 745 patients. After a median follow-up of 95 months (range 60–155), the mean BMI dropped from 41.0 ± 7.3 to 33.2 ± 7.1 kg/m2, with a 46.2 ± 36.5% excess weight loss (EWL). A more than 50% EWL was achieved in 44% of patients. The band was still in place in 77.1% of patients; conversion to gastric bypass after band removal was carried out in 98 (14.9%) patients, while a simple removal was done in only 52 (7.9%) patients. Band removal was more likely in women and patients with a higher BMI.
Conclusions
After LAGB, band removal was necessary for complications or insufficient weight loss in 24% of patients. Nearly half of the patients achieved a more than 50% EWL, but in 88%, a more than 10% EWL was observed. LAGB can achieve an acceptable weight loss in some patients, but the failure in one out of four patients does not allow proposing it as a first-line option for the treatment of obesity.