01.06.2014 | Ausgabe 6/2014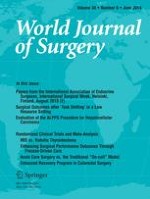 Long-Term Results of the Modified Thal Procedure in Patients with Chagasic Megaesophagus
Zeitschrift:
Autoren:

Andréa Pedrosa Ribeiro Alves, Paulo Gonçalves de Oliveira, Julia Martins de Oliveira, Diego Martins de Mesquita, João Henrique Zanotelli dos Santos
Abstract
Background
Chagas disease is a serious public health issue in South and Central America due to its high prevalence, morbidity, and mortality. The esophageal form of the disease leads to achalasia and consequent megaesophagus. In advanced or recurrent cases of megaesophagus, there is no consensus for which of three established techniques—the Serra-Dória procedure, subtotal esophagectomy, or Modified Thal cardioplasty—is best. Very few studies have investigated the average efficacy and long-term outcomes of the Thal procedure. The present study sought to bridge this gap.
Methods
The Modified Thal procedure was performed in 29 patients at Hospital Universitário de Brasília between 1998 and 2008. All underwent clinical and nutritional evaluation, upper gastrointestinal endoscopy (UDE) with chromoscopy, esophageal manometry, and 24-h pH monitoring.
Results
Overall, 86 % experienced resolution of all symptoms after surgery. Most patients were classified as Visick grade I, II, or III. The average body mass index was 22.7 kg/m2. UDE showed normal mucosa in 76 % of patients, and 11 % had unstained areas on chromoscopy. Esophageal manometry demonstrated incomplete lower esophageal sphincter (LES) relaxation in 50 % of patients, complete LES relaxation in 21 %, and no LES relaxation in 29 %. All showed complete relaxation of the upper esophageal sphincter. On 24-h pH monitoring, reflux was pathological in 50 % of patients.
Conclusions
Overall, the modified Thal procedure improved symptoms—namely, dysphagia to liquids with resulting weight loss and malnutrition—in patients with megaesophagus. No correlations were found between clinical complaints, endoscopic findings, and degree of manometric abnormality in these patients.