01.11.2008 | Regular Article | Ausgabe 6/2008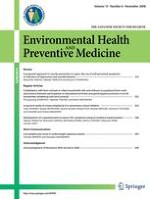 Long-term study of urinary bisphenol A in elementary school children
Zeitschrift:
Autoren:

Yuko Yamano, Sanpei Miyakawa, Kyoichi Iizumi, Hiroaki Itoh, Motoki Iwasaki, Shoichiro Tsugane, Jun Kagawa, Toshio Nakadate
Abstract
Objectives
Due to its industrial application and frequent use as a coating material for food containers, bisphenol A (4,4′-isopropylidenediphenol, BPA) is present in abundance in our environment. Data on intake levels of BPA are limited in preadolescent children in Japan. This study was designed to help us better understand the current state of BPA exposure in children in Japan.
Methods
We followed first graders (
n
= 104) attending school in a Tokyo suburb from 1998 until the sixth grade (2003), during which time we collected a total of three morning urine samples. Urinary BPA was analyzed using high-performance liquid chromatography isotope-dilution tandem mass spectrometry.
Results
Ninety-four children were followed for 5 years. Median urinary BPA level was 2.66 ng/mg creatinine (CRE) (range 0.9–38.9) at first grade (1998), 1.52 ng/mg CRE (0.4–11.8) at third grade (2000), and 0.66 ng/mg CRE (0.2–8.5) at sixth grade (2003), showing a significant decrease in urinary BPA levels over a 5-year follow-up study (
p
< 0.001). No significant difference was seen between boys and girls at each grade.
Conclusions
Urinary levels of BPA were relatively low throughout the study period; however, as the study progressed, we observed a significant decline in levels, the reason behind which is not yet clear.