01.12.2016 | Research | Ausgabe 1/2016 Open Access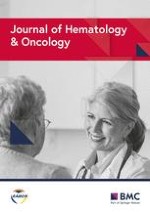 Long-term survival and late events after allogeneic stem cell transplantation from HLA-matched siblings for acute myeloid leukemia with myeloablative compared to reduced-intensity conditioning: a report on behalf of the acute leukemia working party of European group for blood and marrow transplantation
Zeitschrift:
Autoren:

Avichai Shimoni, Myriam Labopin, Bipin Savani, Liisa Volin, Gerhard Ehninger, Jurgen Kuball, Donald Bunjes, Nicolaas Schaap, Stephane Vigouroux, Andrea Bacigalupo, Hendrik Veelken, Jorge Sierra, Matthias Eder, Dietger Niederwieser, Mohamad Mohty, Arnon Nagler
Wichtige Hinweise
Electronic supplementary material
The online version of this article (doi:
10.​1186/​s13045-016-0347-1
) contains supplementary material, which is available to authorized users.
Background
Allogeneic hematopoietic stem cell transplantation (SCT) is a potentially curative approach in patients with acute myeloid leukemia (AML). Substantial improvement has been achieved in the last decades in SCT outcomes owing to improved supportive care and transplantation techniques and a larger proportion of SCT recipients are becoming long-term survivors [
1
].
Reduced-intensity conditioning (RIC) has been widely introduced over the past 15 years to allow SCT in elderly and medically infirm patients not eligible for standard myeloablative conditioning (MAC) [
2
]. Several studies have shown similar survival of AML patients after SCT with RIC or MAC [
3
–
9
]. Most of these studies have shown that RIC is associated with reduced non-relapse mortality (NRM) but increased relapse rate, resulting in a similar leukemia-free survival (LFS) as MAC. However, due to the more recent introduction of RIC, there is paucity of data on the long-term outcome (beyond 10 years) after RIC.
Most deaths after SCT occur within the first 2 years [
10
]. Long-term survivors remain at increased risk for late complications and late morbidity and mortality that is higher than their sibling donors or the age- and gender-matched general population [
11
–
13
]. In the largest study of long-term survivors, the Center of International Blood and Marrow Transplantation Research (CIBMTR) has shown that the probability of patients who were alive and disease-free at 2 years after SCT to remain alive 10 years after SCT was 85 % (84 % among patients with AML) [
13
]. Relapse was the most common cause of late death, but chronic graft-versus-host disease (GVHD), infections, organ toxicity and second cancers were also important causes of late mortality. These observations were limited to MAC recipients, and there is, similarly, paucity of data on the kinetics of late events after RIC and the expected outcomes of 2-year survivors after RIC.
In this study, we show that 10-year survival is similar after RIC and MAC, and that 2-year survivors after RIC can expect a similarly favorable outcome as 2-year survivors after MAC.
Methods
Results
Discussion
These data can serve to reassure patients given RIC at the 2 year time-point that their subsequent survival is favorable and not significantly different than among those given MAC. However, the causes of subsequent deaths are somewhat different between RIC and MAC. While relapse is the major cause of late death in both, it is a more prominent cause of death after RIC. Chronic GVHD and second cancers are more prominent causes of late death after MAC.
This study has several limitations. This is a retrospective analysis that compared two not well-matched cohorts. However, the retrospective design of this study was the only way to try to answer the question regarding outcome of patients receiving either RIC or MAC in clinical practice at the present time. A randomized study of this size with this long-term follow-up is unlikely to be performed. While there are differences between the two groups, especially regarding age at the time of transplantation, the overlap is large enough for a comparison and allows adjusting for these differences. Other factors such as source of stem cells and use of in vivo T cell depletion are in part inherent to the conditioning regimen used and they reflect clinical practice. The objective was to assess the outcome of the strategies as they have been used until now including such factors. We focused on match-sibling donors and therefore the conclusions cannot be extended to other settings such as SCT from matched unrelated donors or alternative donors, which are increasingly been used.
Conclusions
The long-term survival of AML patients age ≥50 years, given SCT from HLA-matched siblings with RIC or MAC regimens is similar. The subsequent outcome of 2-year survivors is also similar as is the kinetics of late events.
Acknowledgements
The authors would like to thank all EBMT centers for contributing patients to the study and data managers for their great work. A complete list of the members of the European Blood and Marrow Transplantation Group appears in Additional file
1
.
Availability of data and materials
The datasets analyzed during the current study are available from the corresponding author on reasonable request.
Authors' contributions
AS, ML, MM, and AN designed the research, analyzed and interpreted data, and wrote the manuscript; BS, LV, GE, JK, DB, NS, SV, AB, HV, JS, ME, and DN provided patients, collected and analyzed data, and critically reviewed the manuscript before submission. All authors read and approved the final manuscript.
Competing interests
The authors declare that they have no competing interests.
Consent for publication
Not applicable.
Ethics approval and consent to participate
Since 1990, patients provide informed consent authorizing the use of their personal information for research purposes. Data were provided, and the study design was approved by the acute leukemia working party (ALWP) of the EBMT group registry, in accordance with the EBMT guidelines for retrospective studies.
Open Access
This article is distributed under the terms of the Creative Commons Attribution 4.0 International License (
http://​creativecommons.​org/​licenses/​by/​4.​0/​
), which permits unrestricted use, distribution, and reproduction in any medium, provided you give appropriate credit to the original author(s) and the source, provide a link to the Creative Commons license, and indicate if changes were made. The Creative Commons Public Domain Dedication waiver (
http://​creativecommons.​org/​publicdomain/​zero/​1.​0/​
) applies to the data made available in this article, unless otherwise stated.