01.05.2008 | clinical-patient studies | Ausgabe 1/2008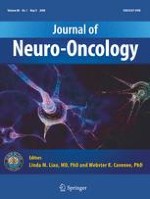 Longitudinal assessment of childhood optic gliomas: relationship between flicker visual evoked potentials and magnetic resonance imaging findings
Zeitschrift:
Autoren:

Benedetto Falsini, Lucia Ziccardi, Ilaria Lazzareschi, Antonio Ruggiero, Luca Placentino, Anna Dickmann, Lucia Liotti, Marco Piccardi, Emilio Balestrazzi, Cesare Colosimo, Concezio Di Rocco, Riccardo Riccardi
Abstract
The aim of this study was to evaluate longitudinally functional and neuro-radiologic findings in childhood optic gliomas (OG), by comparing flicker visual evoked potentials (F-VEPs) with brain magnetic resonance imaging (MRI) changes. Fourteen children (age range: 1–13 years) with OGs underwent serial F-VEP, MRI and neuro-ophthalmic examinations over a 38 month (median, range: 6–76) follow-up. F-VEPs were elicited by 8 Hz sine-wave flicker stimuli presented in a mini-Ganzfeld. Contrast-enhanced MRI examinations were performed. Results of both tests were blindly assessed by independent evaluators. F-VEPs were judged to be improved, stable or worsened if changes in the amplitude and/or phase angle of the response exceeded the limits of test–retest variability (±90th percentile) established for the same patients. MRI results were judged to show regression, stabilization or progression of OG based on its changes in size (±20%) or extension. Two to seven pairs of F-VEP/MRI examinations per patient (median: 4) were collected. Based on a total of 38 pairs of F-VEP/MRI examinations, both tests agreeed in showing worsening (progression), stabilization and improvement (regression) in 5, 15 and 10 cases, respectively. In 3 cases, F-VEPs showed a worsening and MRI a stabilization, while in 5 cases F-VEPs showed an improvement and MRI a stabilization. Agreement between F-VEP and MRI changes was 78.9% (95% CI: ± 37%,
K
statistics = 0.67,
P
< 0.001). The results indicate that longitudinal F-VEP changes can predict changes in MRI-assessed OG size and extension, providing a non-invasive functional assay, complementary to neuro-imaging, for OG follow-up.