01.12.2015 | Research article | Ausgabe 1/2015 Open Access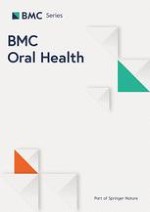 Longitudinal study of dental caries incidence associated with
Streptococcus mutans

and

Streptococcus sobrinus

in patients with intellectual disabilities
Zeitschrift:
Autoren:

Yuki Oda, Fumiko Hayashi, Mitsugi Okada
Wichtige Hinweise
Competing interests
The authors declare that they have no competing interests.
Authors' contributions
YO, FH and MO desighned the study. MO performed the dental examination. YO and MO collected plaque samples. YO and FH performed the conventional PCR assay. YO and MO were responsible for data analysis. All authors participated in the manuscript processing and approved the final version.
Abstract
Background
Mutans streptococci (
Streptococcus mutans
and
S. sobrinus
) are considered to be major etiologic agents of dental caries. Using a polymerase chain reaction method, we detected those bacteria from 145 outpatients (6–30 years old) with intellectual disabilities (ID) and their presence was compared with the incidence of dental caries.
Methods
Plaque samples were collected from all erupted tooth sites in subjects with a sterile toothbrush. A dental examination was performed to determine the number of decayed and filled teeth (DFT score) in permanent dentition using the WHO caries diagnostic criteria. A Mann–Whitney U-test was employed to compare the caries scores between combinations of the bacteria, and with a Wilcoxon rank test used to compare caries scores between the baseline and after 1 year.
Results
Among all subjects,
S. mutans
and
S. sobrinus
were possessed by 78.7 and 83.5 %, respectively, while 13.1 % were positive for
S. mutans
alone, 17.9 % for
S. sobrinus
alone, and 65.6 % for both organisms, with 3.4 % were negative for both. The mean DFT score of subjects positive for both
S. mutans
and
S. sobrinus
at after 1 year was significantly higher than that of those positive for
S. mutans
alone (
P
 < 0.01). The increase in caries increment was also significantly greater in subjects with both bacteria detected (
P
 < 0.001).
Conclusion
Our results indicate that patients with ID harboring both
S. mutans
and
S. sobrinus
have a significantly higher incidence of dental caries than those with
S. mutans
alone.