24.03.2017 | Original Article | Ausgabe 5/2017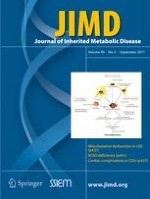 Longitudinal volumetric and 2D assessment of cerebellar atrophy in a large cohort of children with phosphomannomutase deficiency (PMM2-CDG)
Zeitschrift:
Autoren:

Víctor de Diego, Antonio F. Martínez-Monseny, Jordi Muchart, Daniel Cuadras, Raquel Montero, Rafael Artuch, Celia Pérez-Cerdá, Belén Pérez, Belén Pérez-Dueñas, Andrea Poretti, Mercedes Serrano, Collaborators of the CDG Spanish-Consortium
Wichtige Hinweise
Communicated by: Jaak Jaeken
The original version of this article was revised: Due to an unfortunate error during the typesetting process, the collaborators were presented incorrectly.
Abstract
Objective
We aim to delineate the progression of cerebellar atrophy (the primary neuroimaging finding) in children with phosphomannomutase-deficiency (PMM2-CDG) by analyzing longitudinal MRI studies and performing cerebellar volumetric analysis and a 2D cerebellar measurement.
Methods
Statistical analysis was used to compare MRI measurements [midsagittal vermis relative diameter (MVRD) and volume] of children with PMM2-CDG and sex- and age-matched controls, and to determine the rate of progression of cerebellar atrophy at different ages.
Results
Fifty MRI studies of 33 PMM2-CDG patients were used for 2D evaluation, and 19 MRI studies were available for volumetric analysis. Results from a linear regression model showed that patients have a significantly lower MVRD and cerebellar volume compared to controls (
p
 < 0.001 and
p
 < 0.001 respectively). There was a significant negative correlation between age and MVRD for patients (
p
 = 0.014). The rate of cerebellar atrophy measured by the loss of MVRD and cerebellar volume per year was higher at early ages (
r
 = −0.578,
p
 = 0.012 and
r
 = −0.323,
p
 = 0.48 respectively), particularly in patients under 11 years (
p
 = 0.004). There was a significant positive correlation between MVRD and cerebellar volume in PMM2-CDG patients (
r
 = 0.669,
p
 = 0.001).
Conclusions
Our study quantifies a progression of cerebellar atrophy in PMM2-CDG patients, particularly during the first decade of life, and suggests a simple and reliable measure, the MVRD, to monitor cerebellar atrophy. Quantitative measurement of MVRD and cerebellar volume are essential for correlation with phenotype and outcome, natural follow-up, and monitoring in view of potential therapies in children with PMM2-CDG.