15.06.2020 | Ausgabe 4/2020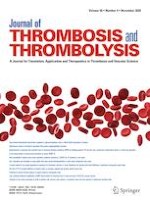 Loop-mediated isothermal amplification (LAMP)-based method for detecting factor V Leiden and factor II G20210A common variants
Zeitschrift:
Autoren:

Giovanni Luca Tiscia, Donatella Colaizzo, Patrizia Vergura, Giovanni Favuzzi, Elena Chinni, Charlotte Vandermeulen, Liselot Detemmerman, Elvira Grandone
Wichtige Hinweise
Publisher's Note
Springer Nature remains neutral with regard to jurisdictional claims in published maps and institutional affiliations.
Abstract
Automated methodologies allowing for rapid detection of Factor V Leiden and Factor II G20210A variants are desirable, due to a high number of tested patients. Here, we report a preliminary validation of a CE-marked in vitro diagnostic (IVD) certified method for simultaneous detection of Factor V Leiden and Factor II G20210A variants on whole blood samples. The novel method is based on Loop-mediated isothermal AMPlification (LAMP) applied for a duplex detection of Factor V Leiden and Factor II G20210A variants without requiring prior DNA extraction, whereas the routine one is a TaqMan SNP genotyping targeting genomic DNA. We tested routine patients for both variants using novel and current methods and estimated concordance rate. Patients were tested under similar laboratory procedures. One hundred and eight patients referred for the thrombophilia testing in the period between 9th December 2019 to 27th February 2020 represented the study population. We routinely identified for the Factor V Leiden variant 163 wild-type, 17 heterozygotes and no homozygote. Concerning the Factor II G20210A variant, we identified 170 wild-type, nine heterozygotes and one homozygous carrier. Two heterozygotes carried both variants (double heterozygotes). The LAMP method showed a 100% concordance rate, detecting rightly all genotypes. The LAMP for a duplex detection of common thrombophilia variants shows analytic performances as good as those of the standard method.