01.12.2018 | Research | Ausgabe 1/2018 Open Access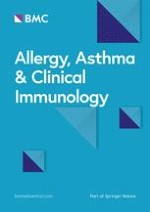 Loss of bronchoprotection to Salbutamol during sputum induction with hypertonic saline: implications for asthma therapy
Zeitschrift:
Autoren:

Hongyu Wang, Melanie Kjarsgaard, Terence Ho, John D. Brannan, Parameswaran Nair
Abstract
Background
Sputum induction with hypertonic saline in obstructive airway diseases is generally safe. However, saline induces bronchoconstriction in some patients despite pre-medication with Salbutamol. Our objectives were to investigate the predictors of failure of Salbutamol to protect against saline-induced-bronchoconstriction in patients with asthma and COPD and to evaluate implications for asthma therapy.
Methods
Retrospective survey on a database of 3565 patients with obstructive airway diseases who had sputum induced with hypertonic saline. The effect of baseline FEV1, bronchitis and concomitant medication on saline-induced-bronchoconstriction (≥ 15% drop in FEV1) were examined by logistic regression analysis. A subgroup had this re-examined 8–12 weeks after decreasing long-acting-beta-2-agonist dose or after adding Montelukast, which included an assessment of mast cell activity in sputum.
Results
222 (6.2%) patients had saline-induced-bronchoconstriction despite pre-treatment with inhaled Salbutamol. Baseline airflow obstruction (FEV1% predicted < 60% OR 3.29, p < 0.001) and long-acting-beta-agonist use (OR 2.02, p = 0.001), but not bronchitis, were predictors of saline-induced-bronchoconstriction, which decreased when long-acting-beta-agonist dose was decreased. Refractoriness to subsequent bronchodilation was associated with mast cell activity and was attenuated by Montelukast.
Conclusion
Sputum induction with saline provides information on bronchitis and additional physiological data on tolerance to beta-agonists and mast cell activity that may have implications for clinical therapy.