01.12.2017 | Research article | Ausgabe 1/2017 Open Access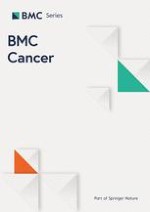 Low CCL17 expression associates with unfavorable postoperative prognosis of patients with clear cell renal cell carcinoma
Zeitschrift:
Autoren:

Ying Xiong, Li Liu, Yu Xia, Jiajun Wang, Wei Xi, Qi Bai, Yang Qu, Jiejie Xu, Jianming Guo
Wichtige Hinweise
Electronic supplementary material
The online version of this article (doi:
10.​1186/​s12885-017-3106-y
) contains supplementary material, which is available to authorized users.
Abbreviations
AJCC
American Joint Committee on Cancer
CCL17
chemokine (C–C motif) ligand 17
ccRCC
Clear cell renal cell carcinoma
ECOG PS
Eastern Cooperative Oncology Group performance status
SSIGN
Mayo Clinic stage, size, grade and necrosis
TARC
Thymus and activation-regulated chemokine
UISS
University of California Integrated Staging System
Background
Renal cell carcinoma (RCC) is the most common malignant cancer in the adult kidney and accounts for 2 to 3% of all malignancies in adults [
1
]. Clear-cell RCC (ccRCC) is the major histological subtype according to the WHO classification, which accounts for 80–90% of all RCC patients [
2
]. Around one third of the patients who underwent curative surgeries would develop recurrences or metastases afterwards [
3
]. Several prognostic factors and integrated staging systems have been developed for RCC patients such as TNM stage, Fuhrman grade and several integrated models like University of California Integrated Staging System (UISS) and Mayo Clinic stage, size, grade and necrosis (SSIGN) score [
4
]. Unfortunately, these models are not accurate enough due to the genetic complexity and heterogeneity of the disease [
5
]. Improved predictive models of survival for ccRCC are needed.
Numerous evidences indicate that chemokines play pleiotropic roles in tumor cell biology [
6
]. Chemokine (C–C motif) ligand 17 (CCL17), also known as thymus and activation-regulated chemokine (TARC) [
7
], is a chemokine produced by myeloid dendritic cells, endothelial cells, bronchial epithelial cells and several tumor cells [
8
]. It is a ligand for CC chemokine receptor 4 (CCR4) and CC chemokine receptor 8 (CCR8). It is able to recruit T cells particularly Th2 cells and activate other antigen-presenting cells [
9
]. Researchers recently proved that CCL17 was involved in recruiting cytotoxic T cells by binding to CCR4 [
10
] and activating CD8+ T cells through dendritic cells [
11
]. These findings indicate that CCL17 is able to enhance antitumor immunity. We wondered whether chemokine CCL17 could act as a promising biomarker candidate for RCC. The role of CCL17 in the development of ccRCC remains unknown so we analyzed the impact of CCL17 expression on patients' overall survival (OS) and recurrence-free survival (RFS) in a large cohort of ccRCC patients.
Methods
Results
Discussion
In this study, we found that CCL17 was predominantly expressed on cytoplasm of tumor cells through immunochemistry, and high CCL17 expression turned out to be positively correlated with a better prognosis. What's more, CCL17 expression was an independent prognostic factor for OS and RFS of ccRCC patients. The combination of CCL17 expression and current prognostic models like TNM stage, UISS and SSIGN was able to enhance prognostic accuracy. In the end, we generated two nomograms by incorporating CCL17 with other clinicopathological parameters derived from multivariate analysis to predict patients' OS and RFS. Comparisons by C-indexes showed that the two nomograms performed better than current prognostic models.
As a member of the CC-motif chemokine family, CCL17 is actively secreted by immune cells. CCL17 binds to the G-protein coupled CCR4 and CCR8 and serves for the recruitment and migration of these receptor-expressing cells [
21
,
22
]. CCL17 was considered to attract CCR4+ Treg cells to the tumor. CCL17 created a favorable environment where tumor cells could escape from host immune responses in some type of cancers [
23
]. Different functions of CCL17 are being discovered these years. CCL17 produced by dendritic cells is able to attract naive cytotoxic T lymphocytes expressing CCR4 and enhance cytotoxicity [
10
]. It is also a mediator of CD8+ T cell activation through dendritic cells [
11
]. The prognostic significance of CCL17 varies with the type of malignancy. CCL17 high expression in tumor cells predicts poor survival in patients with hepatocellular carcinoma [
24
]. Elevated serum level of CCL17 predicts better survival in renal cell carcinoma after peptide vaccination [
25
] and melanoma carcinoma [
26
]. Researchers treated 68 subjects with IMA901, a therapeutic vaccine for RCC consisting of multiple tumor associated peptides. Among 300 serum biomarkers, researchers identified that low apolipoprotein A-I and CCL17 predicted worse IMA901 treatment response and overall survival [
25
]. Our study revealed that low CCL17 expression was also associated with poor patients' survival without IMA901 treatment.
CCR4 is expressed by CD4+ T cells, CD8+ cytotoxic T lymphocytes, natural killer cells, macrophages and subsets of DCs [
27
]. Mogamulizumab (KW-0761) is a humanized antiCCR4 mAb approved for treatment of certain types of adult T-cell leukemia and peripheral T-cell lymphoma. A clinical study of mogamulizumab for the treatment of CCR4-negative advanced or recurrent solid cancer is now conducted [
28
]. CC17 and CCL22 are both ligands of CCR4 but they probably have opposing effects on Treg homeostasis in that CCL22 favors Treg recruitment whereas CCL17 has been reported to convert the Treg phenotype to an inflammatory mediator [
29
,
30
].
However, some limitations remained to be solved. This was a retrospective study in nature and the number of patients enrolled was limited. Though bootstrap internal validation has been used, the issues of over-fitting still existed. Cohort-specific biases including the method of tissue fixation, the staining protocols, the lot of the antibody, preparation and storage of the slides could largely affect our conclusions. Since all patients were from one institution, patient ethnicity/race, clinical practices at the institution and selection biases could also lead to cohort-specific biases thus affected the results. Lack of external validation was the major limitations of our research. We need to validate the results in an independent cohort to support our conclusions in the future. Moreover, the heterogeneity of tumors might also affect the results though we took two tissue cores and took six shots from one tumor block. Further researches were required to investigate the roles of CCL17 in ccRCC tumor cells.
Conclusion
In conclusion, we have identified that low CCL17 expression was strongly associated with a poor outcome and CCL17 can be used as a novel prognostic factor in predicting patients' OS and RFS. We also developed nomograms for OS and RFS, which could give a better prediction for patients with ccRCC after surgery.
Acknowledgments
The authors would like to thank Dr. Yuan Ji, Dr. Jun Hou and Ms. Haiying Zeng (Department of Pathology, Zhongshan Hospital of Fudan University) for diagnosis confirmation and technical assistance, respectively.
Funding
This study was funded by grants from National Natural Science Foundation of China (31270863, 81471621, 81472227, 81472376 and 81671628), Program for New Century Excellent Talents in University (NCET-13-0146), Shanghai Municipal Natural Science Foundation (14ZR 1406300) and Zhongshan Hospital Science Foundation (2016ZSQN30). All these study sponsors have no roles in the study design, in the collection, analysis, and interpretation of data.
Availability of data and materials
The dataset supporting the conclusions of this article cannot be provided at present because we are collecting some other detailed follow up information. We will provide the original data by the time we finish the current task.
Authors' contributions
YX carried out and conducted experiments, performed statistical analysis, and drafted the manuscript. LL participated in the collection of patient materials and drafting of the manuscript. YX carried out laboratory work and data analysis. JW and WX performed laboratory work and participated in the correction of words in the manuscript. QB and YQ participated in the study design and collection of related articles. JX took charge of the study design and revising manuscript critically for important intellectual content. JG conceived of the study, and led the data analysis and oversaw the drafting of the manuscript. All authors read and approved the final manuscript.
Competing interests
The authors declare that they have no competing interests.
Consent for publication
Not applicable.
Ethics approval and consent to participate
The study was approved by Fudan University, Zhongshan Hospital research medical ethics committee. All specimens were obtained from patients with written informed consent.
Open Access
This article is distributed under the terms of the Creative Commons Attribution 4.0 International License (
http://​creativecommons.​org/​licenses/​by/​4.​0/​
), which permits unrestricted use, distribution, and reproduction in any medium, provided you give appropriate credit to the original author(s) and the source, provide a link to the Creative Commons license, and indicate if changes were made. The Creative Commons Public Domain Dedication waiver (
http://​creativecommons.​org/​publicdomain/​zero/​1.​0/​
) applies to the data made available in this article, unless otherwise stated.