01.12.2015 | Research article | Ausgabe 1/2015 Open Access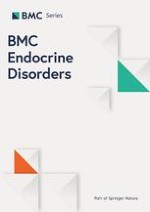 Low concentrations of serum testosterone predict acute myocardial infarction in men with type 2 diabetes mellitus
Zeitschrift:
Autoren:

Bledar Daka, Robert D. Langer, Charlotte A. Larsson, Thord Rosén, Per Anders Jansson, Lennart Råstam, Ulf Lindblad
Wichtige Hinweise
Competing interest
The authors declare that they have no competing interests.
Authors' contributions
BD prepared the data, performed the statistical analyses, drafted the manuscript and took part in conceiving the study. RDL participated in designing the study. He also participated in performing statistical analyses and drafting the manuscript. TR and PAJ participated in designing the study. CAL worked on preparing data and offered expertise in statistical analysis. LR conceived the study and acquired the data. UL conceived and coordinated the study, as well as acquired the data. He also participated in designing the study, performing statistical analyses and drafting the manuscript. All authors took part in designing the study, interpreting the data, revising the manuscript, and reading and approving the final manuscript.
Abstract
Background
The aim of the present study was to investigate the associations between endogenous testosterone concentrations and the incidence of acute myocardial infarction (AMI) in men and women with and without type 2 diabetes.
Methods
The study comprised 1109 subjects ≥40 years of age (mean age 62 ± 12 years) participating in a baseline survey in Sweden in 1993–94. Information about smoking habits and physical activity was obtained using validated questionnaires. Serum concentrations of testosterone and sex hormone-binding globulin (SHBG) were obtained using radioimmunoassay. Diagnosis of type 2 diabetes was based on WHO's 1985 criteria. Individual patient information on incident AMI was ascertained by record linkage with national inpatient and mortality registers from baseline through 2011.
Results
The prevalence of type 2 diabetes at baseline was 10.0 % in men and 7.5 % in women. During a mean follow-up of 14.1 years (±5.3), there were 74 events of AMI in men and 58 in women. In age-adjusted Cox models, a significant inverse association between concentrations of testosterone and AMI-morbidity was found in men with type 2 diabetes (HR = 0.86 CI (0.75–0.98)). In a final model also including waist-to-hip ratio, systolic blood pressure, total cholesterol and active smoking, the association still remained statistically significant (HR = 0.754 CI (0.61–0.92)).
Conclusion
Low concentrations of testosterone predicted AMI in men with type 2 diabetes independent of other risk factors. Trials with testosterone investigating the effect regarding cardiovascular outcome are still lacking. Future trials in this field should take into account a modification effect of diabetes.