01.12.2012 | Research | Ausgabe 1/2012 Open Access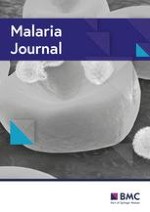 Low coverage of intermittent preventive treatment for malaria in pregnancy in Nigeria: demand-side influences
Zeitschrift:
Autoren:

Chima A Onoka, Kara Hanson, Obinna E Onwujekwe
Wichtige Hinweise
Competing interests
The authors declare that they have no competing interests.
Authors' contributions
CO, KH and OO designed the study. CO and OO were involved in data collection and analysis. CO wrote the initial draft of the manuscript and all the authors participated in its finalization. All authors read and approved the final manuscript.
Abstract
Background
Nigeria instituted intermittent preventive treatment for malaria (IPTp) using sulphadoxine-pyrimethamine (SP) for pregnant women in 2001, but coverage remains low. This study examined the influence of demand side factors on IPTp coverage.
Methods
Data were collected using a household survey from 1307 women who were delivered of a live baby within the one-year period preceding the study and through an exit poll from 146 women attending antenatal clinics (ANC). Data analysis examined coverage based on the national and WHO guidelines for IPTp delivery which differ with regards to use of IPTp in the last month of pregnancy. Focus group discussions (FGDs) were undertaken to further explain demand side constraints to coverage.
Results
From the household survey, 96.1% of respondents attended ANC, with most having five or more visits. Overall IPTp coverage for the first and second doses was 13.7% and 7.3% respectively. The coverage was higher in the urban areas compared to rural areas (p < 0.01). Amongst women who could have received IPTp based on the timing of their attendance, only 14.1% and 14.3% were offered the first dose based on national and WHO guidelines, while 7.7% and 7.5% were offered the second dose respectively giving significant missed opportunities. Amongst ANC attendees offered first and second doses, 98.9% and 96.9% respectively took the medicine. Only 13.6% and 21.5% of these clients reported taking the drug under direct observation. The low level of coverage was confirmed by exit survey data, which found coverage of 11.6% and 3.0% for the first and second doses. The FGDs revealed that women do not have many concerns about side effects, but they take drugs providers give them because they believe such drugs must be safe.
Conclusion
This study found low coverage of IPTp and high levels of missed opportunities supporting findings that high ANC attendance does not guarantee high IPTp coverage. Demand side factors such as ANC attendance, appropriate timing of attendance, and perceptions about side effects were not constraining factors to increased coverage, raising the need to examine supply side factors.