01.12.2018 | Research article | Ausgabe 1/2018 Open Access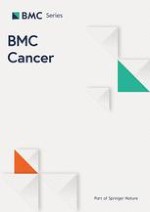 Low expression of c-Myc protein predicts poor outcomes in patients with hepatocellular carcinoma after resection
Zeitschrift:
Autoren:

Fei Ji, Zhi-heng Zhang, Yi Zhang, Shun-Li Shen, Qing-Hua Cao, Long-Juan Zhang, Shao-Qiang Li, Bao-Gang Peng, Li-Jian Liang, Yun-Peng Hua
Abstract
Background
Embryonic Liver Fodrin (ELF) is an adaptor protein of transforming growth factor (TGF-β) signaling cascade. Disruption of ELF results in mislocalization of Smad3 and Smad4, leading to compromised TGF-β signaling. c-Myc is an important oncogenic transcription factor, and the disruption of TGF-β signaling promotes c-Myc-induced hepatocellular carcinoma (HCC) carcinogenesis. However, the prognostic significance of c-Myc in HCC is less understood
Methods
The expression of c-Myc protein and mRNA were measured by immunohistochemistry (IHC) and qRT- PCR, respectively. IHC was performed to detect TGF-β1 and ELF expression in HCC tissues. Their relationship with clinicopathological factors and overall survival (OS) and disease free survival (DFS) were examined.
Results
The expression of c-Myc protein and mRNA in HCC tissues were significantly higher in HCC area than those in normal liver tissues. However, the expression were low compared with those adjacent to HCC area. c-Myc protein was independently predictive of DFS and OS, and it was negatively correlated with tumor size (
P
 = 0.031), tumor number (
P
 = 0.038), and recurrence (
P
 = 0.001). Low c-Myc expression was associated with short-term recurrence and poor prognosis. The predictive value of c-Myc combined with TGF-β1 or/and ELF was higher than that of any other single marker. Low c-Myc, high TGF-β1 or/and low ELF expression was associated with the worst DFS and OS.
Conclusions
Low expression of c-Myc protein predicts poor outcomes in patients with HCC with hepatectomy. The combination of the expression of c-Myc, TGF-β1, and ELF can be used to accurately predict outcomes of patients with HCC.