01.12.2017 | Research | Ausgabe 1/2017 Open Access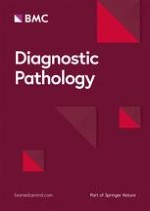 Low frequency of BRAF and KRAS mutations in Chinese patients with low-grade serous carcinoma of the ovary
Zeitschrift:
Autoren:

Yan Xu, Rui Bi, Yaoxing Xiao, Xiaoyu Tu, Ming Li, Anqi Li, Ling Shan, Shuling Zhou, Wentao Yang
Abstract
Background
Mounting evidence has shown that KRAS and BRAF are somatic mutations associated with low grade serous carcinoma (LGSC) of the ovary. However, the frequency of KRAS or BRAF mutation was variable in literatures, with a frequency of 16–54% for KRAS mutation and 2–33% for BRAF mutation. Meanwhile, the prognostic significance of KRAS or BRAF mutation remains controversial.
Methods
Codons 12 and 13 of exon 2 of KRAS gene and exon 15 of BRAF gene were analyzed using direct Sanger sequencing in 32 cases of LGSC of the ovary. The associations between KRAS or BRAF mutation and clinicopathological characteristics, overall survival (OS) and disease-free survival (DFS) were statistically analyzed.
Results
KRAS mutation was observed in nine cases (9/32, 28%) and BRAF mutation in two cases (2/32, 6%). KRAS and BRAF mutations were mutually exclusive. Neither KRAS nor BRAF mutation was statistically associated with OS or DFS in our cohort, although there was a favorable prognostic trend in patients with KRAS G12D mutation than those with KRAS G12 V mutation or wild-type KRAS for OS.
Conclusions
The present study indicated a low frequency of BRAF or KRAS mutation in Chinese patients with LGSC of the ovary, and neither KRAS nor BRAF mutation is a prognostic factor.