01.12.2015 | Research article | Ausgabe 1/2015 Open Access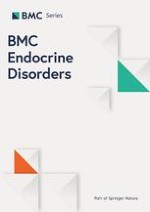 Low immediate postoperative serum-cortisol nadir predicts the short-term, but not long-term, remission after pituitary surgery for Cushing's disease
Zeitschrift:
Autoren:

Jon Ramm-Pettersen, Helene Halvorsen, Johan Arild Evang, Pål Rønning, Per Kristian Hol, Jens Bollerslev, Jon Berg-Johnsen, Eirik Helseth
Wichtige Hinweise
Competing interest
The authors report no conflicts of interest.
Authors' contributions
JR-P conceived of the study, participated in the data collection and drafted the manuscript, HH and JAE collected the data and analysed the results of each patient, PR participated in the design of the study and performed the statistical analysis, PKH collected the imaging data and reviewed the results, JB and JB-J have contributed in analysis and interpretation of the data, and have revised the manuscript, EH participated in the design and coordination of the study and helped draft the manuscript. All authors read and approved the final manuscript.
Abstract
Background
Cushing's disease is an ACTH-producing pituitary adenoma, and the primary treatment is microscopic or endoscopic transsphenoidal selective adenectomy. The aims of the present study were to evaluate whether the early postoperative S-cortisol level can serve as a prognostic marker for short- and long-term remission, and retrospectively review our own short and long term results after surgery for Cushing's disease.
Methods
This single centre, retrospective study consists of 19 consecutive patients with Cushing's disease who underwent transsphenoidal surgery. S-cortisol was measured every 6 h after the operation without any glucocorticoid replacement. We have follow-up on all patients, with a mean follow-up of 68 months.
Results
At the three-month follow-up, 16 patients (84 %) were in remission; at 12 months, 18 (95 %) were in remission and at the final follow-up (mean 68 months), 13 (68 %) were in remission. Five-years recurrence rate was 26 %. The mean postoperative S-cortisol nadir was significantly lower in the group of patients in remission than in the non-remission group at 3 months, but there was no difference between those in long-term remission compared to those in long-term non-remission. The optimal cut-off value for classifying 3-month remission was 74 nmol/l.
Conclusion
We achieved a 95 % 1-year remission rate with transsphenoidal surgery for Cushing's disease in this series of consecutive patients. However, the 5-year recurrence rate was 26 %, showing the need for regular clinical and biochemical controls in this patient group. The mean postoperative serum-cortisol nadir was significantly lower in patients in remission at 3 months compared to patients not in remission at 3 months, but a low postoperative S-cortisol did not predict long-term remission.