09.11.2017 | Original Article | Ausgabe 3/2018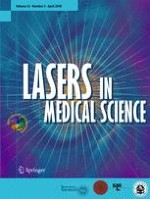 Low-level laser therapy improves the VO2 kinetics in competitive cyclists
Zeitschrift:
Autoren:

Fábio J. Lanferdini, Renata L. Krüger, Bruno M. Baroni, Caetano Lazzari, Pedro Figueiredo, Alvaro Reischak-Oliveira, Marco A. Vaz
Wichtige Hinweise
Renata L. Krüger is a researcher sponsored by the Brazilian National Research Council (CNPq), Brazil.
Abstract
Some evidence supports that low-level laser therapy (LLLT) reduces neuromuscular fatigue, so incrementing sports performance. A previous randomized controlled trial of our group showed increased exercise tolerance in male competitive cyclists treated with three different LLLT doses (3, 6, and 9 J/diode; or 135, 270, and 405 J/thigh) before time-to-exhaustion cycling tests. Now, the present study was designed to evaluate the effects of these LLLT doses on the VO
2
kinetics of athletes during cycling tests. Twenty male competitive cyclists (29 years) participated in a crossover, randomized, double-blind, and placebo-controlled trial. On the first day, the participants performed an incremental cycling test to exhaustion to determine maximal oxygen uptake (VO
2MAX
) and maximal power output (PO
MAX
), as well as a familiarization with the time-to-exhaustion test. In the following days (2 to 5), all participants performed time-to-exhaustion tests at PO
MAX
. Before the exhaustion test, different doses of LLLT (3, 6, and 9 J/diode; or 135, 270, and 405 J/thigh, respectively) or placebo were applied bilaterally to the quadriceps muscle. All exhaustion tests were monitored online by an open-circuit spirometry system in order to analyze the VO
2
amplitude, VO
2
delay time, time constant (tau), and O
2
deficit. Tau and O
2
deficit were decreased with LLLT applications compared to the placebo condition (
p
< 0.05). No differences (
p
> 0.05) were found between the experimental conditions for VO
2
amplitude and VO
2
delay time. In conclusion, LLLT decreases tau and O
2
deficit during time-to-exhaustion tests in competitive cyclists, and these changes in VO
2
kinetics response can be one of the possible mechanisms to explain the ergogenic effect induced by LLLT.