01.09.2009 | Regular Article | Ausgabe 5/2009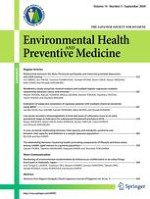 Low serum secretory immunoglobulin A level and sense of coherence score at an early gestational stage as indicators for subsequent threatened premature birth
Zeitschrift:
Autoren:

Naomi Sekizuka, Akemi Sakai, Keiko Shimada, Noriko Tabuchi, Yukie Kameda, Hiroyuki Nakamura
Abstract
Objectives
The purpose of this study was to assess the validity of the candidate indicators secretory immunoglobulin A (s-IgA) and sense of coherence (SOC) as predictors of threatened premature birth.
Methods
This was a panel study conducted on women in their first and latter half of pregnancy during survey period. The survey period was from December 2005 to June 2006 and from December 2007 to June 2008. The women enrolled in the study were asked to complete the survey questionnaire and provide blood samples for the determinations of physiological indicators. The questionnaire consisted of questions related to the stress perception scale (SPS), SOC score as an indicator of modifiers of stress, demographic data, complications in a previous pregnancy, and the course of the current pregnancy. We used s-IgA and high-sensitivity C-reactive protein as a physiological stress indicator and a marker of infection, respectively. Seventy-two eligible subjects were included in the analysis.
Results
Twenty-eight (38.9%) subjects had undergone treatment for threatened premature birth, and 44 (61.1%) subjects had not. In the logistic analysis, we set the course of pregnancy as a dependent variable, and age, birth history, smoking habits, a history of miscarriage, premature birth or threatened premature birth, SPS, SOC, and s-IgA in the first half of pregnancy as independent variables. We found that low serum s-IgA levels and low SOC scores in the first half of pregnancy were associated with threatened premature birth.
Conclusions
Our results suggest that low serum s-IgA level and SOC score at an early gestational stage are significant indicators for a threatened premature birth.