01.12.2015 | Study protocol | Ausgabe 1/2015 Open Access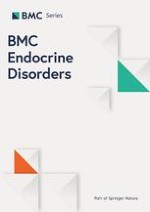 Lower limb biomechanical characteristics of patients with neuropathic diabetic foot ulcers: the diabetes foot ulcer study protocol
Zeitschrift:
Autoren:

Malindu Eranga Fernando, Robert George Crowther, Margaret Cunningham, Peter Anthony Lazzarini, Kunwarjit Singh Sangla, Jonathan Golledge
Wichtige Hinweise
Electronic supplementary material
The online version of this article (doi:
10.​1186/​s12902-015-0057-7
) contains supplementary material, which is available to authorized users.
Competing interests
The authors declare that they have no competing interests.
Authors' contributions
MEF conceived the study, and drafted the first version of the manuscript. RC assisted with developing the methods for the study, trained MEF on how to perform all assessments, assisted with biomechanical outcome definitions and edited the manuscript for publication. MC assisted with the development of the methods and analyses and edited the manuscript for publication. PL provided intellectual input on the design and methods of the study, especially in relation to foot ulcer outcomes and edited the manuscript for publication. KS provided clinical expertise on diabetes participants and research methods and edited the manuscript for publication. JG assisted with planning study methodology and contributed to writing and editing of the manuscript for publication. All authors read and approved the final manuscript.
Abstract
Background
Foot ulceration is the main precursor to lower limb amputation in patients with type 2 diabetes worldwide. Biomechanical factors have been implicated in the development of foot ulceration; however the association of these factors to ulcer healing remains less clear. It may be hypothesised that abnormalities in temporal spatial parameters (stride to stride measurements), kinematics (joint movements), kinetics (forces on the lower limb) and plantar pressures (pressure placed on the foot during walking) contribute to foot ulcer healing. The primary aim of this study is to establish the biomechanical characteristics (temporal spatial parameters, kinematics, kinetics and plantar pressures) of patients with plantar neuropathic foot ulcers compared to controls without a history of foot ulcers. The secondary aim is to assess the same biomechanical characteristics in patients with foot ulcers and controls over-time to assess whether these characteristics remain the same or change throughout ulcer healing.
Methods/Design
The design is a case–control study nested in a six-month longitudinal study. Cases will be participants with active plantar neuropathic foot ulcers (DFU group). Controls will consist of patients with type 2 diabetes (DMC group) and healthy participants (HC group) with no history of foot ulceration. Standardised gait and plantar pressure protocols will be used to collect biomechanical data at baseline, three and six months. Descriptive variables and primary and secondary outcome variables will be compared between the three groups at baseline and follow-up.
Discussion
It is anticipated that the findings from this longitudinal study will provide important information regarding the biomechanical characteristic of type 2 diabetes patients with neuropathic foot ulcers. We hypothesise that people with foot ulcers will demonstrate a significantly compromised gait pattern (reduced temporal spatial parameters, kinematics and kinetics) at base line and then throughout the follow-up period compared to controls. The study may provide evidence for the design of gait-retraining, neuro-muscular conditioning and other approaches to off-load the limbs of those with foot ulcers in order to reduce the mechanical loading on the foot during gait and promote ulcer healing.