01.12.2015 | Study protocol | Ausgabe 1/2015 Open Access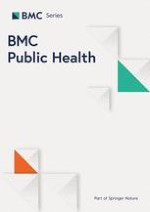 LucKi Birth Cohort Study: rationale and design
Zeitschrift:
Autoren:

Dianne de Korte-de Boer, Monique Mommers, Huub MH Creemers, Edward Dompeling, Frans JM Feron, Cindy ML Gielkens-Sijstermans, Mariëlle Jaminon, Suhreta Mujakovic, Onno CP van Schayck, Carel Thijs, Maria Jansen
Wichtige Hinweise
Competing interests
The authors declare that they have no competing interests.
Authors' contributions
DK participated in the data management, cleaned the data, performed the statistical analyses and drafted the manuscript. MM initiated and designed the study and coordinated data collection and data management. CG and MJam initiated and designed the study and participated in the data collection and data management. SM participated in the data collection and data management. HC, ED, FF, OS, CT, and MJan participated in the design of the study. All authors commented on earlier drafts of the manuscript and read and approved the final manuscript.
Authors' information
Not applicable.
Availability of data and materials
Not applicable.
Abstract
Background
Infancy and childhood are characterized by rapid growth and development, which largely determine health status and well-being across the lifespan. Identification of modifiable risk factors and prognostic factors in critical periods of life will contribute to the development of effective prevention and intervention strategies.
The LucKi Birth Cohort Study was designed and started in 2006 to follow children from birth into adulthood on a wide range of determinants, disorders, and diseases. During preschool and school years, the primary focus is on the etiology and prognosis of atopic diseases (eczema, asthma, and hay fever) and overweight/obesity.
Methods/Design
LucKi is an ongoing, dynamic, prospective birth cohort study, embedded in the Child and Youth Health Care (CYHC) practice of the 'Westelijke Mijnstreek' (a region in the southeast of the Netherlands). Recruitment (1–2 weeks after birth) and follow-up (until 19 years) coincide with routine CYHC contact moments, during which the child's physical and psychosocial development is closely monitored, and anthropometrics are measured repeatedly in a standardised way. Information gathered through CYHC is complemented with repeated parental questionnaires, and information from existing registries of pharmacy, hospital and/or general practice. Since the start already more than 5,000 children were included in LucKi shortly after birth, reaching an average participation rate of ~65 %.
Discussion
The LucKi Birth Cohort Study provides a framework in which children are followed from birth into adulthood. Embedding LucKi in CYHC simplifies implementation, leads to low maintenance costs and high participation rates, and facilitates direct implementation of study results into CYHC practice. Furthermore, LucKi provides opportunities to initiate new (experimental) studies and/or to establish biobanking in (part of) the cohort, and contributes relevant information on determinants and health outcomes to policy and decision makers. Cohort details can be found on
www.​birthcohorts.​net
.