01.04.2015 | Research Article | Ausgabe 4/2015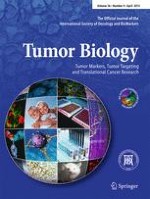 Lung cancer cells induce senescence and apoptosis of pleural mesothelial cells via transforming growth factor-beta1
Zeitschrift:
Autoren:

Zhi-Feng Miao, Wen-Ya Li, Zhen-Ning Wang, Ting-Ting Zhao, Ying-Ying Xu, Yong-Xi Song, Jin-Yu Huang, Hui-Mian Xu
Wichtige Hinweise
Z.-F. Miao and W.-Y. Li contributed equally to this article.
Abstract
Pleural dissemination is commonly associated with metastatic advanced lung cancer. The injury of pleural mesothelial cells (PMCs) by soluble factors, such as transforming growth factor-beta1 (TGF-β1), is a major driver of lung cancer pleural dissemination (LCPD). In this study, we examine the effects of TGF-β1 on PMC injury and the ability of TGF-β1 inhibition to alleviate this effect both in vitro and in vivo. PMCs were co-cultured with the high TGF-β1-expressing lung cancer cell line A549 and with various TGF-β1 signaling inhibitors. Expression of cleaved-caspase 3, cleaved-caspase 9, p21, and p16 were evaluated by Western blot and immunofluorescent confocal imaging. Apoptosis was measured by 3-(4, 5-dimethylthiazol-2-yl)-2, 5-diphenyltrazoliumbromide assay and AnnexinV-propidium iodide (PI) staining. PMC senescence was assessed by staining for senescence-associated β-galactosidase (SA-β-Gal). The ability of lung cancer cells (LCCs) to adhere to injured PMCs was investigated using an LCC-PMC adhesion assay. In our mouse model, PMC injury status was monitored by hematoxylin–eosin (H&E) and Masson's trichrome staining. LCCs expressing high levels of TGF-β1 induce apoptosis and senescence of PMCs in a co-culture system. Injured PMCs adhere to LCCs, which may further promote LCPD. Importantly, PMC monolayer injury could be reversed with TGF-β1 inhibitors. This was consistent with our in vivo data showing that the TGF-β1 inhibitor SB-431542 attenuated PMC barrier injury induced by A549 culture medium in our mouse model. Our study highlights the importance of TGF-β1 signaling in LCPD and establishes this signaling pathway as a potential therapeutic target in the disease.