01.03.2012 | Original Article | Ausgabe 3/2012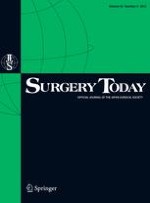 Lung function early after lung transplantation is correlated with the frequency of regulatory T cells
Zeitschrift:
Autoren:

Tomoyuki Nakagiri, Gregor Warnecke, Murat Avsar, Stefanie Thissen, Bianca Kruse, Christian Kühn, Petra Ziehme, Ann-Kathrin Knöfel, Nodir Madrahimov, Meinoshin Okumura, Yoshiki Sawa, Jens Gottlieb, André R. Simon, Axel Haverich, Martin Strüber
Wichtige Hinweise
This work was supported by a grant from Osaka University and by the DFG (SFB 738).
Abstract
Purposes
Outcomes following lung transplantation are limited by bronchiolitis obliterans syndrome (BOS). As the number of circulating regulatory T cells (Treg) is lower in lung recipients with BOS than in stable lung recipients, we hypothesized that Treg is also correlated with lung function in the early post-transplantation period.
Methods
This prospective study included 18 consecutive patients whose lung function parameters were recorded 3 weeks and 3 months after transplantation, between February and July 2007. Peripheral blood mononuclear cells were stained with anti-CD3, -CD4, -CD8, -CD19, -CD25, -CD28, -CD45RA, -CD45RO, -CD69, -CD127, -CTLA4, and -Foxp3 antibodies and FACS assays were performed. In addition, intracellular cytokines were stained for FACS.
Results
Treg-specific markers (Foxp3, CD127lo, and CTLA4) in the CD25+CD4+ population were correlated with both forced expiratory volume in 1 s and forced vital capacity. Th1-cytokine secretion was more dominant in CD4+CD25+ T cells than in CD4+CD25− T cells. In contrast, Th2 and Treg cytokine secretion was the dominant response in stable recipients.
Conclusions
The frequency of Treg cells was positively correlated with good lung function in the early period after lung transplantation.