01.12.2015 | Research article | Ausgabe 1/2015 Open Access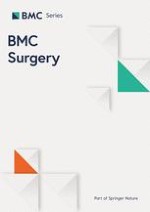 Lung resection in pulmonary aspergilloma: experience of a Moroccan center
Zeitschrift:
Autoren:

Mohammed Massine El Hammoumi, Omar Slaoui, Fayçal El Oueriachi, El Hassane Kabiri
Wichtige Hinweise
Competing interests
The authors declare that they have no competing interests.
Authors' contributions
MMH and OS participated in the data collection, and statistical analysis. MMH designed the study and drafted the manuscript, created the study plan and main study points, FO participated in the study design. HK participated in the study design and coordination, and helped to draft the manuscript. All authors read and approved the final manuscript.
Abstract
Background
This study was conducted to determine the efficacy of surgery in the treatment of complex aspergilloma comparatively with simple aspergilloma.
Methods
From January 2006 to December 2014, 115 cases of pulmonary aspergilloma were admitted in our department. One operation on one side was counted as one case and the patients were divided into two groups. In group A: 61 cases of complex aspergilloma. In group B: 50 patients underwent 54 cases of lung resection for simple aspergilloma. People who underwent arteriography and embolization were excluded. Surgical treatment was indicated when 1) recurrent aspergilloma-related hemoptysis, 2) definite simple or complex aspergilloma and 3) a simultaneous bilateral aspergilloma.
Results
People with complex aspergilloma were big smokers with lower BMI, and had reduced lung function parameters. The main symptoms were repeated hemoptysis, chronic cough, abundant purulent expectoration and respiratory infections. Lobectomy was the most performed indication. In group B, number of wedge resections was larger than group A with statistical significant difference (
p
 = 0.001). In the post-operative course morbidity was higher in group A (16 %) vs (9 %) in group B with statistical difference (
p
 = 0.026). The median follow-up was 30 months (range 19–52 months).
The median duration of chest tube drainage was 4 days. The duration of chest tube drainage was longer in the group A (4.7 ± 1.4 versus 2.9 ± 1.3;
p
 = 0.005). The prolonged postoperative air leakage occurred more frequently in group A (14.75 %; versus 1.8 %
p
 = 0.015). In group A, 3 cases and 2 in group B underwent a secondary operation for post operative hemothorax. Bronchopleural fistula occurred exclusively in group A (
n
 = 4).
Conclusions
The surgical resection should be used in a multidisciplinary approach. Preoperative Interventional therapies could optimize the conditions for the operation. Total surgical resection must be the treatment of choice of localized causative lesions.