01.12.2019 | Research | Ausgabe 1/2019 Open Access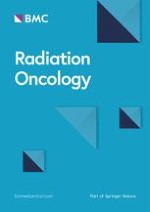 Lung Stereotactic Body Radiation Therapy (SBRT) dose gradient and PTV volume: a retrospective multi-center analysis
Zeitschrift:
Autoren:

David Hoffman, Irena Dragojević, Jeremy Hoisak, David Hoopes, Ryan Manger
Wichtige Hinweise
Electronic supplementary material
Publisher's Note
Springer Nature remains neutral with regard to jurisdictional claims in published maps and institutional affiliations.
Abstract
Background
The treatment of lung lesions with stereotactic body radiation therapy calls for highly conformal dose, which is evaluated by a number of metrics. Lung stereotactic body radiation therapy clinical trials constrain a plans gradient index. The purpose of this work is to describe the dependence of clinically achievable dose gradient on planning target volume.
Methods
Three hundred seventy-four lung stereotactic body radiation therapy treatment plans were retrospectively reviewed and selected for this study. The relationship between R50% and planning target volume size was observed and compared against the RTOG 0915 and 0813 constraints noting minor and major deviations. Then a least squares regression was used to determine the coefficients for a power functional form of the dependence of gradient measure (GM) on planning target volume size.
Results
Of the 317 peripheral lung SBRT plans, 142 exhibited no deviation, 135 exhibited a minor deviation, and 40 exhibited a major deviation according to the RTOG 0915 dosimetric.
conformality and dose fall-off constraints. A plot of gradient measure versus planning target volume size for peripheral lesions, excluding RTOG 0915 major deviations, is fit with an power function of GM = 0.564 V0.215.
Conclusions
Using the PTV size and GM relationship we have characterized, treatment plans with PTV < 85 cm3 can be evaluated subjectively to our previously plans, and given a percentile GM. This relationship and evaluation is useful for volumetric modulated arc therapy lung stereotactic body radiation therapy treatment planning and quality control.