04.07.2016 | Article | Ausgabe 10/2016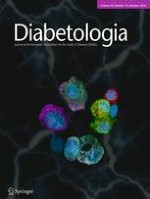 Luteolin reduces obesity-associated insulin resistance in mice by activating AMPKα1 signalling in adipose tissue macrophages
Zeitschrift:
Autoren:

Lei Zhang, Yi-Jing Han, Xian Zhang, Xin Wang, Bin Bao, Wei Qu, Jian Liu
Wichtige Hinweise
Electronic supplementary material
The online version of this article (doi:
10.​1007/​s00125-016-4039-8
) contains peer-reviewed but unedited supplementary material, which is available to authorised users.
Abstract
Aims/hypothesis
Inflammatory polarisation of adipose tissue macrophages (ATMs) plays a critical role in the development of obesity-associated metabolic diseases such as insulin resistance and diabetes. Our previous study indicated that dietary luteolin (LU) could prevent the establishment of insulin resistance in mice fed a high-fat diet (HFD). Here, we further investigated the effects of LU, which is a natural flavonoid, on pre-established insulin resistance and obesity-associated ATM polarisation in mice.
Methods
Five-week-old C57/BL6 mice were fed on a low-fat diet or HFD for 20 weeks, with some mice receiving supplementation with 0.01% LU from weeks 1 or 10 of the HFD to assess the actions of LU on insulin resistance and ATM polarisation. Furthermore, the role of LU in metabolic-dysfunction-associated macrophage phenotypes was investigated in vitro.
Results
Dietary LU supplementation, either for 20 weeks or from weeks 10 to 20 of an HFD, significantly improved insulin resistance in HFD-fed mice. In addition, inflammatory macrophage infiltration and polarisation were suppressed in mouse epididymal adipose tissues. Furthermore, LU treatment directly reversed lipopolysaccharide-stimulated and metabolism-regulated molecules, and induced inflammatory polarisation in mouse RAW264.7 cells and peritoneal cavity resident macrophages. Finally, using the selective AMP-activated protein kinase (AMPK) inhibitor compound C and
Ampkα1
(also known as
Prkaa1
) silencing with siRNA, we found that LU activated AMPKα1 in macrophages to inhibit their inflammatory polarisation and enhanced insulin signals in adipocytes that were stimulated with macrophage-conditioned media.
Conclusions/interpretation
Dietary LU ameliorated insulin resistance in diet-induced obese mice by promoting AMPKα1 signalling in ATMs.