01.04.2015 | Research Article | Ausgabe 4/2015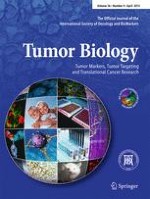 Lycorine induces programmed necrosis in the multiple myeloma cell line ARH-77
Zeitschrift:
Autoren:

Yuhao Luo, Mridul Roy, Xiaojuan Xiao, Shuming Sun, Long Liang, Huiyong Chen, Yin Fu, Yang Sun, Min Zhu, Mao Ye, Jing Liu
Wichtige Hinweise
Y. Luo, M. Roy, and X. Xiao contributed equally to this work.
Abstract
Lycorine, a natural alkaloid, has been widely reported to possess potential efficacy against cancer. However, the anti-multiple myeloma mechanism of lycorine is not fully understood. In this study, the results demonstrated that lycorine is effective against multiple myeloma cell line ARH-77 via inducing programmed necrosis. The mechanisms of lycorine on the multiple myeloma cell line ARH-77 are associated with G1 phase cell cycle arrest, mitochondrial dysfunction, reactive oxygen species (ROS) generation, ATP depletion, and DNA damage. Our results elucidate the new mechanism of lycorine against multiple myeloma.