29.04.2019 | Original Research | Ausgabe 2/2019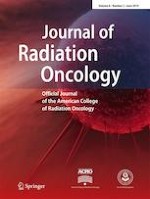 Lymphopenia as a predictor of survival in chemoradiation-treated stage III non-small-cell lung cancer (NSCLC): a multi-center retrospective analysis
Zeitschrift:
Autoren:

Vidhya Karivedu, Rishi Agarwal, Sulsal Ul Haque, Bicky Thapa, Farhad Fakhrejahani, Pingfu Fu, Gregory M. M. Videtic, Nooshin Hashemi Sadraei
Wichtige Hinweise
Publisher's note
Springer Nature remains neutral with regard to jurisdictional claims in published maps and institutional affiliations.
Abstract
Background
Concurrent chemoradiation (CRT) with a platinum-containing regimen is considered standard of care for eligible unresectable stage III non-small-cell lung cancer (NSCLC) patients. Attempts to improve locoregional control, and thereby enhance overall survival (OS), by increasing the dose of radiation failed to do so in a contemporary phase III trial. Better understanding of the effects of radiation on the immune system, particularly absolute lymphocyte counts (ALC), may explain the poorer survival seen with high-dose (HD) radiation compared to low dose (LD). We hypothesized that treatment-induced lymphopenia affects outcomes in stage III NSCLC patients treated with concurrent CRT.
Methods
The study is a retrospective multi-institution study. Stage III NSCLC patients who received CRT between 1994 and 2014 were categorized into LD RT (≤ 66 Gy) and HD RT (> 66 Gy) groups. Overall survival was assessed using Kaplan-Meier method with log-rank test and Cox proportional hazard regression model to estimate the effect of radiation dose (LD vs. HD groups) on OS. Hematologic values including ALC were evaluated at diagnosis and at intervals during treatment. Patients with pre-existing immunodeficiency states and autoimmune disease were excluded from the analysis.
Results
Of the patients, 182 were included in the analysis. Median age was 62 years (range 37–82). Seventy-seven percent were males, 67% Caucasians. Most common types of histology were adenocarcinoma (52%) and squamous cell carcinoma (41%). One-hundred-fifty-four patients received LD RT and 28 received HD RT. Medians (ranges) of pre-treatment ALC were 1730/mm
3
(384, 4300) vs. 2065/mm
3
(600, 4580) (
p
 = 0.58) between LD and HD groups. Medians (ranges) of nadir ALC were 324/mm
3
(20, 2410) vs. 279.5/mm
3
(20–930) (
p
 = 0.11) between LD and HD groups. Kaplan-Meier survival curves showed that LD has better OS than the HD group (median survival 31.2 months vs. 13.9 months,
p
 < 0.001). No significant association was detected between RT dose and lymphocytes nadirs or with lymphocyte count prior to RT.
Conclusions
HD RT in stage III NSCLC patients is associated with worse survival. Lower nadir lymphocyte counts, independent of dose of radiation, were not associated with decrease in survival. These findings need further validation in larger studies and in patients treated with immune therapy.