01.12.2018 | Research | Ausgabe 1/2018 Open Access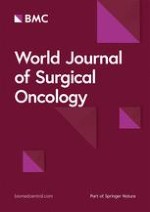 M2-polarized tumor-associated macrophages facilitated migration and epithelial-mesenchymal transition of HCC cells via the TLR4/STAT3 signaling pathway
Zeitschrift:
Autoren:

Rong-Rong Yao, Jing-Huan Li, Rui Zhang, Rong-Xin Chen, Yan-Hong Wang
Wichtige Hinweise
Electronic supplementary material
Abstract
Background
M2-polarized macrophages are tumor-associated-macrophages (TAMs), which are important contents of tumor-infiltrating immune cells. Toll-like receptor 4 (TLR4) is a molecular biomarker of tumor aggressiveness and poor prognosis. Toll-like receptors (TLRs) have important roles in the immune system and M2-polarized macrophages. However, the effects of TLR4 on M2-polarized macrophages in hepatocellular carcinoma (HCC) are unknown. Here, TLR4 expressed on HCC cells mediates the pro-tumor effects and mechanisms of M2-polarized macrophages.
Methods
THP-1 cells were induced to differentiate into M2-like macrophages through treatments with IL-4, IL-13, and phorbol myristate acetate (PMA). We used the HCC cell lines SMMC-7721 and MHCC97-H cultured in conditioned medium from M2-like macrophages (M2-CM) to investigate the migration potential of HCC cells and epithelial-mesenchymal transition (EMT)-associated molecular genetics. Signaling pathways that mediated M2-CM-promoted HCC migration were detected using western blotting.
Results
HCC cells cultured with M2-CM displayed a fibroblast-like morphology, an increased metastatic capability, and expression of EMT markers. TLR4 expression was markedly increased in M2-CM-treated HCC cells. TLR4 overexpression promoted HCC cell migration, and a TLR4-neutralizing antibody markedly inhibited HCC EMT in cells cultured with M2-CM. Furthermore, the TLR4/(signal transducer and activator of transcription 3 (STAT3) signaling pathway contributed to the effects of M2-CM on HCC cells.
Conclusions
Taken together, M2-polarized macrophages facilitated the migration and EMT of HCC cells via the TLR4/STAT3 signaling pathway, suggesting that TLR4 may be a novel therapeutic target. These results improve our understanding of M2-polarized macrophages.