10.07.2020 | Review | Ausgabe 9/2020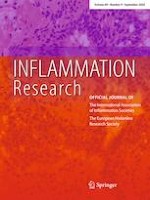 Macrophage polarization and its role in the pathogenesis of acute lung injury/acute respiratory distress syndrome
Zeitschrift:
Autoren:

Xuxin Chen, Jian Tang, Weizheng Shuai, Jiguang Meng, Jian Feng, Zhihai Han
Wichtige Hinweise
Responsible Editor: John Di Battista.
Xuxin Chen, Jian Tang and Weizheng Shuai Co-first authors.
Publisher's Note
Springer Nature remains neutral with regard to jurisdictional claims in published maps and institutional affiliations.
Abstract
Purpose
Macrophages are highly plastic cells. Under different stimuli, macrophages can be polarized into several different subsets. Two main macrophage subsets have been suggested: classically activated or inflammatory (M1) macrophages and alternatively activated or anti-inflammatory (M2) macrophages. Macrophage polarization is governed by a highly complex set of regulatory networks. Many recent studies have shown that macrophages are key orchestrators in the pathogenesis of acute lung injury (ALI)/acute respiratory distress syndrome (ARDS) and that regulation of macrophage polarization may improve the prognosis of ALI/ARDS. A further understanding of the mechanisms of macrophage polarization is expected to be helpful in the development of novel therapeutic targets to treat ALI/ARDS. Therefore, we performed a literature review to summarize the regulatory mechanisms of macrophage polarization and its role in the pathogenesis of ALI/ARDS.
Methods
A computer-based online search was performed using the PubMed database and Web of Science database for published articles concerning macrophages, macrophage polarization, and ALI/ARDS.
Results
In this review, we discuss the origin, polarization, and polarization regulation of macrophages as well as the role of macrophage polarization in various stages of ARDS. According to the current literature, regulating the polarized state of macrophages might be a potential therapeutic strategy against ALI/ARDS.