01.12.2015 | Research article | Ausgabe 1/2015 Open Access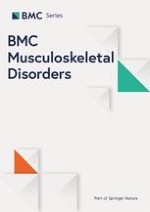 Magnetic resonance evaluation in long term follow up of operated lateral tibial plateau fractures
Zeitschrift:
Autoren:

Georg Mattiassich, Ernst Foltin, Martin Pietsch, Oliver Djahani, Albert Kröpfl, Martin Fischmeister, Georg Scheurecker
Wichtige Hinweise
Competing interests
The authors declare that they have no competing interest.
Authors' contributions
GM was responsible for conception, design, acquisition of data, analysis and interpretation of data and drafting the manuscript. EF has been involved in conception and design of the study, acquisition of data and performed statistical analysis, interpretation of data and correction of manuscript. MP and OD have been involved in critical revision of the manuscript and improved the discussion section. MF participated in the design of the study and was responsible for clinical management of the patients and has been involved in critical revision of the manuscript with regard to important intellectual content. AK provided general supervision of the study. GS provided radiological analysis and interpretation of data. All authors read and approved the final manuscript.
Abstract
Background
A lack of data exists on the long-term magnetic resonance imaging (MRI) findings after surgical repair of tibial plateau fractures (TPFs). We evaluated the MRI findings 13 to 31 years after surgical repair of TPFs, focusing especially on the pathological changes in the ligaments, menisci, and cartilage.
Methods
Twenty-three patients with 24 TPFs underwent open reduction and internal fixation with the same fork-shaped surgical plate that was used in our institution until 1999. No patient underwent preoperative or immediately postoperative MRI. The knees of all patients who underwent plate removal were examined by axial, coronal, and sagittal MRI. The Knee Injury and Osteoarthritis Outcome Score (KOOS) and whole-organ magnetic resonance score (WORMS) were determined in all patients.
Results
All 24 knees exhibited MRI abnormalities. An unexpectedly high number of pathological changes in the menisci and ligaments were observed. No meniscal or ligamentous injuries were documented at the time of the injury or initial surgery, but meniscal injuries manifested in the long term. MRI in almost all cases showed a damage to the lateral meniscal, the severity of which was related to the degree of tibial plateau widening, but not to the severity of the lateral joint surface impression. The overall condition of the knee joint was satisfactory as measured by the WORMS, and there was a weak correlation between WORMS and KOOS.