01.12.2016 | Case report | Ausgabe 1/2016 Open Access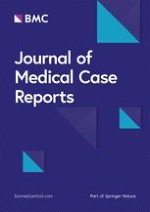 Magnetic resonance imaging findings of cellular angiofibroma of the tunica vaginalis of the testis: a case report
Zeitschrift:
Autoren:

Alexandra A. Ntorkou, Athina C. Tsili, Dimitrios Giannakis, Anna Batistatou, Sotirios Stavrou, Nikolaos Sofikitis, Maria I. Argyropoulou
Wichtige Hinweise
Competing interests
The authors declare that they have no competing interests.
Authors' contributions
AN, ACT, AB and MIA were major contributors in writing the manuscript. DG, SS and NS contributed to conception and data acquisition, and also in writing this manuscript. All authors read and approved the final manuscript.
Abstract
Background
Cellular angiofibroma represents a rare mesenchymal tumor typically involving the inguinoscrotal area in middle-aged men. Although the origin of this benign tumor is unknown, it is histologically classified as an angiomyxoid tumor. Cellular angiofibroma is characterized by a diversity of pathological and imaging features. An accurate preoperative diagnosis is challenging. Magnetic resonance imaging examination of the scrotum has been reported as a valuable adjunct modality in the investigation of scrotal pathology. The technique by providing both structural and functional information is useful in the differentiation between extratesticular and intratesticular diseases and in the preoperative characterization of the histologic nature of various scrotal lesions. There are few reports in the English literature addressing the magnetic resonance imaging findings of cellular angiofibroma of the scrotum and no reports on functional magnetic resonance imaging data. Here we present the first case of a cellular angiofibroma arising from the tunica vaginalis of the testis and we discuss the value of a multiparametric magnetic resonance protocol, including diffusion-weighted imaging, magnetization transfer imaging and dynamic contrast-enhanced magnetic resonance imaging in the preoperative diagnosis of this rare neoplasm.
Case presentation
A 47-year Greek man presented with a painless left scrotal swelling, which had gradually enlarged during the last 6 months. Magnetic resonance imaging of his scrotum displayed a left paratesticular mass, in close proximity to the tunica vaginalis, with heterogeneous high signal intensity on T2-weighted images and no areas of restricted diffusion. The tumor was hypointense on magnetization transfer images, suggestive for the presence of macromolecules. On dynamic contrast-enhanced magnetic resonance imaging the mass showed intense heterogeneous enhancement with a type II curve. Magnetic resonance imaging findings were strongly suggestive of a benign paratesticular tumor, which was confirmed on pathology following lesion excision.
Conclusions
Magnetic resonance imaging of the scrotum by combining conventional and functional magnetic resonance data provides useful diagnostic information in the preoperative characterization of scrotal masses. A possible diagnosis of a benign paratesticular tumor based on magnetic resonance imaging features may improve patient care and decrease the number of unnecessary radical surgical explorations.