01.12.2017 | Research | Ausgabe 1/2017 Open Access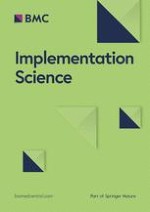 Making sense of complexity in context and implementation: the Context and Implementation of Complex Interventions (CICI) framework
Zeitschrift:
Autoren:

Lisa M. Pfadenhauer, Ansgar Gerhardus, Kati Mozygemba, Kristin Bakke Lysdahl, Andrew Booth, Bjørn Hofmann, Philip Wahlster, Stephanie Polus, Jacob Burns, Louise Brereton, Eva Rehfuess
Wichtige Hinweise
Electronic supplementary material
The online version of this article (doi:
10.​1186/​s13012-017-0552-5
) contains supplementary material, which is available to authorized users.
Abbreviations
CFIR
Consolidated framework for implementation research
CICI
Context and Implementation of Complex Interventions
CONSORT
Consolidated Standard of Reporting Trials
CReDECI 2
Criteria for Reporting the Development and Evaluation of Complex Interventions in healthcare
EUnetHTA
European network for health technology assessment
HBPC
Home-based palliative care
HTA
Health technology assessment
PARiHS
Promoting Action on Research Implementation in Health Services
PRISM
Practical, Robust Implementation and Sustainability Model
RE-AIM
Reach Effectiveness Adoption Implementation Maintenance framework
RECORD
REporting of studies Conducted using Observational Routinely collected health Data
rHBPC
Reinforced home-based palliative care
StaRI
Standards for Reporting Phase IV Implementation studies
STROBE
STrengthening the Reporting of OBservational studies in Epidemiology
TREND
Transparent Reporting of Evaluations with Nonrandomized Design
WHO
World Health Organisation
Background
Methods
The CICI framework was developed as part of the EU-funded project Integrated health technology assessment for the evaluation of complex technologies (INTEGRATE-HTA) (
www.​integrate-hta.​eu
). The overall aim of the project was to develop concepts and methods for HTA to enable a patient-centred, integrated assessment of the effectiveness, the economic, social, cultural, legal, and ethical aspects of complex health technologies, which take context and implementation into account. The CICI framework was developed in a three-step process, each involving a degree of overlap and iteration (Fig.
1
).
×
Step 1
In the first step, we undertook purposive literature searches for models, theories and frameworks concerned with context and/or implementation. We critically examined the publications identified in this way and, using our understanding of complex interventions within complex systems, we built an initial framework. In parallel, methods for logic models [
33
] as well as methods to undertake an assessment of effectiveness, economic, socio-cultural, ethical and legal aspects were developed within INTEGRATE-HTA. Starting in step 1 and continuing, we aimed to come to agreement across the project regarding the domains of the CICI framework as well as the aspects covered by each domain, so that all methods could be used in a coherent and complementary fashion (Fig.
1
). As a research team, we applied the initial framework within three rapid assessments of complex interventions (i.e., improved household stoves and fuels for developing countries, specialist palliative care and e-learning interventions to increase evidence-based healthcare competencies in healthcare professionals). These rapid assessments explored whether the broad principles of the framework might apply across very different types of health interventions. The rapid assessments unveiled inconsistencies in the interpretation of the terms context and implementation and the characteristics assigned to each of these among members of the research team.
Step 2
Consequently, we examined the conceptual maturity of both concepts (i.e., context and implementation). A mature concept is well defined and clearly described and has delineated boundaries as well as documented pre-conditions and outcomes [
34
]. To explore and advance conceptual maturity, we chose pragmatic utility (PU) concept analysis [
34
–
36
]. PU concept analysis comprises three major steps, i.e., selection of literature, organisation and structuring of the selected literature and asking analytical questions of the literature. In step 1, we conducted systematic searches to identify a comprehensive set of publications that describe relevant models, theories and frameworks of context and implementation. For this purpose, we conducted two separate searches, a standard systematic search for context in EMBASE and MEDLINE and an innovative forward tracking search for implementation in Google Scholar. The latter was based on the landmark review by Damschroder et al. (2009) and identified any publication citing either Damschroder et al. (2009) or the individual models, theories or frameworks included therein. This resulted in considerably improved efficiency of our searches without a significant loss of information [
37
]. In step 2, we structured the literature according to the field of application, the field in which the concepts were originally developed, definitions, characteristics as well as contained model(s) (e.g., Consolidated Framework for Advancing Implementation Research (CFIR)) whenever an extension or refinement of an existing framework was undertaken. Finally, in step 3, we inductively and deductively developed questions that were asked of the literature. These questions included, for example, the interactions between the concepts of context, implementation and the implementation agents, the influence of time and the conceptualisation of an implementation success. These questions were answered in order to reveal potential inconsistencies in the conceptualisation of terms. Both concepts (context and implementation) were also analysed in terms of their conceptual maturity, comprising definitions, characteristics, described pre-conditions and outcomes, and boundaries. More details on the concept analysis are published elsewhere [
37
]. Based on the findings of the concept analysis, we revised the initial framework.
Step 3
The revised framework underwent extensive application. As part of the INTEGRATE-HTA project, a demonstration HTA of reinforced home-based palliative care (rHBPC) (i.e., home care with an additional element of carer support) was undertaken. The same revised framework was applied by different researchers, both within and outside of INTEGRATE-HTA. It was used (i) as part of the system-based logic model used in scoping the demonstration HTA (JB, AR, LB, LP, PW, AG, ER, KBL, KM and others) [
38
]; (ii) as the so called best-fit framework [
39
] in a qualitative systematic review (LP, AB, ER, LB and others) [
38
]; (iii) as the basis for a data extraction tool in a systematic review of effectiveness (JB, SP, LP, ER and others) [
40
–
42
]; and (iv) as the structure for an applicability assessment (SP, LP, AG, ER and others) (Polus et al., submitted manuscript), with most of these described in more detail below.
For the application of the revised framework in
quantitative systematic reviews
, we developed a tool for inclusion within the respective data extraction forms, with questions corresponding to the domains of the framework. This data extraction tool was used within a systematic review assessing the effectiveness of home-based palliative care undertaken as part of INTEGRATE-HTA (Burns et al., submitted manuscript), as well as a review on the effectiveness of interventions to reduce lead in consumer products and drinking water [
42
] and a Cochrane review of interventions to reduce ambient air pollution [
40
].
In a
qualitative systematic review
of contextual enablers and barriers to the implementation of home-based palliative care [
38
], we used the revised framework as a best-fit framework, meaning that findings emerging deductively from the data were structured according to the framework; where findings did not fit, the framework was modified inductively. To facilitate this process, we developed a further data extraction tool based on domains of the framework, with three questions to represent each of the domains.
We also applied the revised framework within an
applicability assessment
, which served to examine whether the findings of the demonstration HTA would be applicable in distinct decision-making settings. To identify contextual and implementation factors affecting applicability, we conducted semi-structured consultations with palliative care experts from three European countries. The domains of the revised framework provided the structure for the consultation guide, which included an open question on each domain (Polus et al., submitted manuscript).
Drawing on recognised approaches for examining applicability, coherence, completeness, usefulness and ease of application [
43
,
44
], we compiled seven criteria (Table
1
) to guide our appraisal of whether the framework could actually deliver on what we had set out to achieve, i.e., to facilitate the structured and comprehensive conceptualisation and assessment of context and implementation of complex health interventions. We collected feedback on the above from all of the researchers who had participated in the various applications, either verbally or in writing. At the same time, the framework was externally peer-reviewed by three experts with intentions to apply the framework. These experts, characterised by different methodological backgrounds and activities across different fields (medical and social policy), provided detailed written feedback; in one case, this was pursued further through an in-depth discussion.
Table 1
Criteria for appraising applicability of the CICI framework
Internal coherence and completeness of framework

Coherence

Is the framework internally coherent and consistent? Are the definitions clear?

Completeness

Is the framework comprehensive?

Theory advancement and development

Theory

To what extent does the framework facilitate the advancement or development of theories?

Compatibility

To what extent is the framework compatible with other theories, frameworks or models?

Relationships

To what extent does the framework allow for the assessment and appraisal of relationships between its components?

Applicability of framework

Adaptation and applicability

To what extent can the framework be applied and/or adapted to different interventions?

Flexibility

To what extent can the framework be applied in systematic reviews and HTAs employing different methods?

Capability

To what extent does the framework capture complexity?

User-friendliness of framework

Feasibility of application

Can the framework be applied easily?
Based on lessons learnt from the multiple applications as well as the detailed feedback from the external peer reviewers, we modified the framework, resulting in the CICI framework presented here (Fig.
2
).
×
We then developed a worked example by applying the framework to an exemplary complex intervention included in the abovementioned Cochrane review of interventions to reduce ambient air pollution: the Air Pollution Act on the Marketing, Sale and Distribution of Coal, was initially introduced in Ireland in 1987 and enacted in the city of Dublin from 1990. Since we were also aiming to demonstrate the added value of the CICI framework as compared to other established and widely used frameworks, we also applied the CFIR [
14
] and the PARiHS framework [
27
] to the same intervention. In populating the three frameworks, we started with the primary study included with our Cochrane review [
45
] and then conducted specific searches of the grey literature to identify relevant information in newspaper articles, government documents, city council reports as well as lobbyism reports.
Results
Discussion
Numerous frameworks, theories and models assessing implementation and, to a lesser extent, context have been published over the past decades. Few of these frameworks address implementation and context in an integrated fashion, and very few offer pragmatic guidance and worked examples of how to apply the framework, theory or model in practise. To our knowledge, the CICI framework is the first attempt to provide guidance for assessing setting, context and implementation of complex interventions in a comprehensive manner, for integrating the views of different disciplines (economics, ethics, sociology, law) and for adapting a concept of context that is embedded in a broad public health perspective rather than a narrower organisational perspective. Through systematic literature searches and concept analysis, the CICI framework builds on previous knowledge and presents a strong theoretical basis; through empirical applications across several distinct complex health interventions, it has proven its value across a range of different methodological approaches (e.g., qualitative and quantitative systematic reviews, primary qualitative research). It can serve both as a
determinant framework
that seeks to conceptualise, describe and understand the multiple influences on implementation outcomes, and as an
evaluation framework
that clarifies the context, setting and implementation aspects to be assessed when examining implementation success or lack thereof. The CICI framework includes step-by-step pragmatic guidance, a generic checklist to be adapted for different purposes and data extraction tools as well as a graphical representation to facilitate its application in practise.
Theoretical underpinnings and scope
Need for detailed assessment and reporting
The success in populating the dimensions and domains of the CICI framework with evidence critically depends on detailed assessment and reporting of information in primary studies. In our various applications of the framework as well as in the worked example, a significant problem was that primary studies reported little detail on context and implementation; this was less problematic when using primary qualitative or mixed-method studies. Unfortunately, our experience confirms what is known from the literature: reporting of information on context and implementation of health interventions is consistently poor [
93
]. While many of the widely used reporting guidelines, such as STROBE, SQUIRE, TREND and the extension of CONSORT for Pragmatic Trials, acknowledge context, most only require researchers to report on the setting. More specific reporting guidelines, such as the
Reporting guidelines for implementation and operational research
, the revised
Criteria for Reporting the Development and Evaluation of Complex Interventions in healthcare
(CReDECI 2) [
94
], the
REporting of studies Conducted using Observational Routinely collected Data statement
(RECORD) [
95
] and
Developing Standards for Reporting Phase IV Implementation studies
(StaRI) [
96
] provide helpful guidance on how to report implementation. Additional information regarding context can moreover be found in process evaluations that attest to the evolving, adaptive dynamics of context [
97
].
Methodological strengths and limitations
The combination of systematic searches to identify existing frameworks, theories and models of context and implementation and formal methods to derive definitions and detailed characteristics of the relevant concepts provides a strong theoretical basis for the CICI framework and constitutes one of its major strengths. Some limitations pertaining to the searches are described elsewhere, for example the lack of explicit searches in databases of management and organisational studies [
37
]. It must also be noted that the setting dimension is less well conceptualised, mostly because our search strategy was designed to yield insights into the concepts of context and implementation. The realisation that setting, which plays a critical role in many fields, in particular in health promotion, should be treated as a separate dimension only became apparent in step 3. While the literature tends to conceptualise setting as having physical boundaries [
98
], this may fall short of acknowledging developments during the last decade (e.g., telemedicine, Internet- or smart phone-based interventions). Importantly, we did not employ any formal method of consensus building, such as a Delphi approach. The iterative development of the framework through regular interactions with other methodological work packages across the INTEGRATE-HTA project and external peer review of the framework cannot compensate entirely for this but demonstrates good general agreement with the principles of the framework from a broad group of experts across many different disciplines.
Another considerable strength of the CICI framework is that it underwent extensive testing across different types of interventions and using a range of methodological approaches (i.e., HTA, effectiveness reviews, qualitative review and applicability assessment). While the CICI framework was developed as a generic framework with broad applicability and flexibility, it is not intended to be a straitjacket: depending on the intervention being examined and the scope of the assessment, the CICI framework can focus on selected aspects or domains of the context, implementation and setting dimensions and thus can be tailored to the needs imposed by the intervention or research question. In summary, according to the feedback received, the framework performed well against seven pre-specified criteria. A limitation is, however, that the latest version of the framework has not yet been fully tested. We are in the process of applying the CICI framework in several of our own primary research and evidence synthesis projects and will critically examine its performance. In addition, we would greatly value feedback from others applying the framework and suggestions on how to make it more useful.
Conclusions
As the complexities that emerge in relation to implementing effective health interventions become ever more apparent, it becomes increasingly important to undertake the systematic conceptualisation and assessment of context and implementation. Complexity is not only inherent in the intervention but also a consequence of interactions between the intervention and its implementation in context. The CICI framework constitutes one way of structuring this complexity in order to advance our understanding of whether and how interventions work, while keeping in mind that it is impossible to look for and discover everything [
99
]. When used in conjunction with a logic model, the CICI framework can help researchers and research organisations that undertake systematic reviews and HTAs, such as Cochrane and the European network for HTA (EUnetHTA), make sense of complexity and develop, prioritise and hopefully answer some of the many questions that arise when implementing complex interventions. Operationalised as a checklist and/or graphical representation, the framework can help researchers and research organisations to communicate with the policy and practise audiences they intend to reach. Finally, while developed primarily for evidence synthesis, the usefulness of the framework depends on the evidence available. Therefore, we hope that the scientific community will support adoption of the CICI framework for primary research, where it may be used for conceptualising interventions in complex systems taking the influence of setting, context and implementation on intervention reach and effectiveness into account.
Acknowledgements
We would like to thank all those who contributed to the development of the CICI framework, in particular, the stakeholders who participated in the demonstration HTA and all the members of the INTEGRATE-HTA project. We would moreover like to thank Maggie Hendry, Claudia Wild and Ingrid Wildbacher for their valuable feedback on the previous versions of the CICI framework.
Funding
The research leading to these results has received (partial) funding from the European Union Seventh Framework Programme under grant agreement no. 306141.
Availability of data and materials
Not applicable.
Authors' contributions
LMP, AG, KM, KBL, AB, BH, PW, SP, JB, LB and ER all made substantial contributions to the conception and design of the research. LMP, AG, KM, KBL, BH and JB collected the data. LMP, AG, KM, KBL, AB, BH, PW, SP, JB, LB and ER were involved in the analysis and interpretation of the data. PW, SP, JB and LB applied the framework and provided valuable feedback. ER, AB and BH provided valuable conceptual input throughout the development and the application of the framework. LMP and ER led the drafting of the manuscript, and all authors have reviewed the draft critically and suggested revisions, given final approval of the version to be published and agreed to be accountable for all aspects of the work.
Competing interests
The authors declare that they have no competing interests.
Consent for publication
Not applicable.
Ethics approval and consent to participate
Not applicable.
Open Access
This article is distributed under the terms of the Creative Commons Attribution 4.0 International License (
http://​creativecommons.​org/​licenses/​by/​4.​0/​
), which permits unrestricted use, distribution, and reproduction in any medium, provided you give appropriate credit to the original author(s) and the source, provide a link to the Creative Commons license, and indicate if changes were made. The Creative Commons Public Domain Dedication waiver (
http://​creativecommons.​org/​publicdomain/​zero/​1.​0/​
) applies to the data made available in this article, unless otherwise stated.